Salters Festival of Chemistry 2018
Students from 20 schools all around Leinster had a great time with a variety of chemistry experiments and challenges on Saturday, the 21st of April, here in the School of Chemistry.
Thank you to everyone from the School of Chemistry who took part and volunteered their time, and a special thank you to the Salters' Institute and the Royal Society of Chemistry, to Prof Vinny Cahill (Dean of the Faculty of Engineering, Mathematics and Science) and to PDA (Parenteral Drug Association) Ireland Chapter, who were all sponsors of the event.
We look forward to doing it all again next year!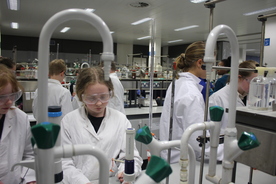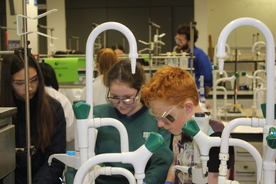 ---
Salters Festival of Chemistry 2017
Students Enjoyed Salters Festival of Chemistry at Trinity
Approximately 80 students from 20 schools across the province of Leinster recently enjoyed an exciting day of scientific exploration at the Salters' Festival of Chemistry, which was held by the School of Chemistry. Each school was represented by a team of four 11-13 year olds, who took part in a variety of chemistry practicals, experiments and challenges. During the morning the teams competed in a hands-on, practical activity called 'The Salters' Challenge - The Blot Strokes Again!' in which they used their analytical chemistry skills. In the afternoon, they engaged in the 'University Challenge', a practical activity in which they were charged with the task of preparing a chemical recipe for making seven different colours. The day was rounded off with a 'Flashes and Bangs' lecture, which involved several demonstrations and required active participation from the students.
---
Salters Festival of Chemistry 2014