News and events
2019
---
Celebrating Prof. T. Brian H. McMurry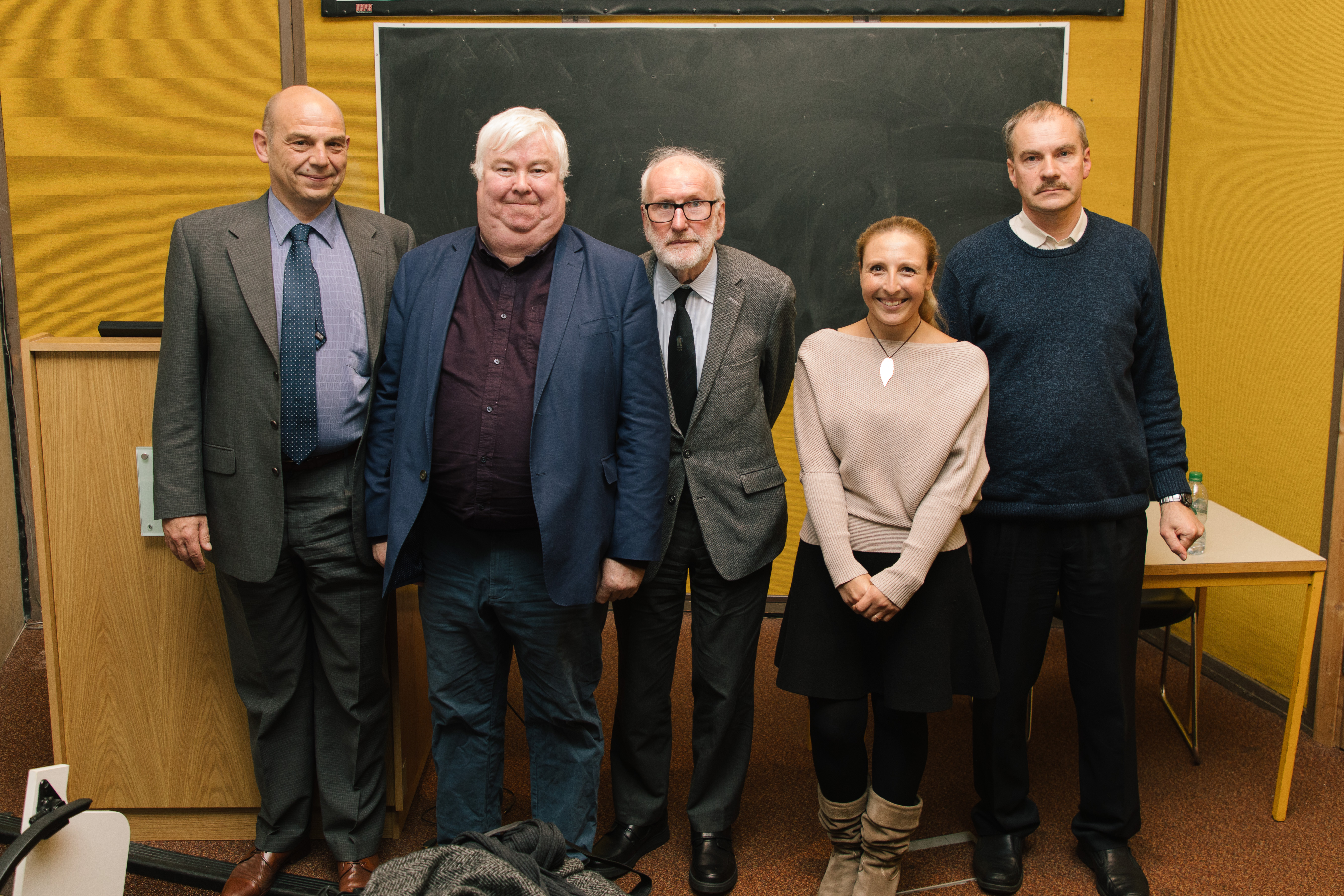 On Friday the 22nd November the School of Chemistry hosted a wonderful event in honor of Prof. T. Brian H. McMurry (Fellow Emeritus) who this year, celebrates being 60 years a TCD Fellow. He became a scholar in 1951 and was elected as a Fellow during Trinity Week, 1959. That same year, he was one of the youngest people ever to be elected as a member of the Royal Irish Academy. He has been a member of the Trinity College community for over 70 years.
The event started with a mini-symposium in the Jonathan Swift lecture theatre, focusing on the theme of "The Future of Chemistry".  The hour-long lecture was comprised of fascinating talks from the three disciplines within the School of Chemistry and was introduced by the Head of School, Prof. Mike Lyons.

The opening talk was given by Prof. Valeria Nicolosi (Discipline of Physical, Computational and Materials Chemistry) entitled "Can nanomaterials help solving the energy storage challenge?".
Prof. Mathias Senge (Discipline of Organic, Medicinal and Biological Chemistry) discussed his personal thoughts on the future of Chemistry, particularly from an organic viewpoint.
Prof. Yurii Gun'ko (Discipline of Inorganic and Synthetic Materials Chemistry) finished off the lecture with his talk on "The Future of Nanomedicine for Cancer Theranostics"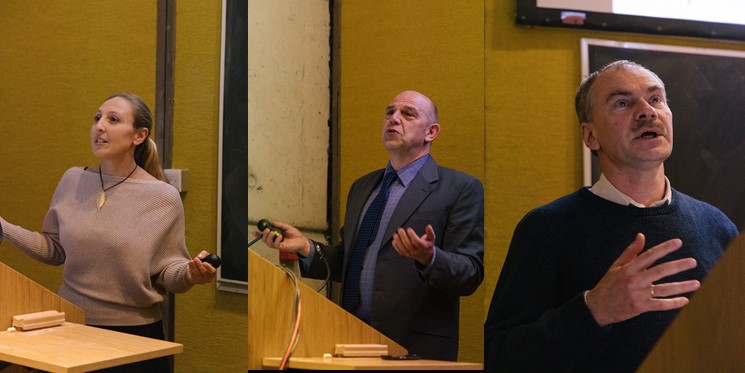 Following the lecture, the attendees relocated to the Senior Common Room for a wine and canapés reception, where Prof. Mike Lyons gave a speech thanking Brian for his remarkable contribution throughout his long and successful career.  He noted that Brian has served on numerous committees throughout College. He served on the TCD Board, held positions such as Dean of Graduate Studies and Registrar (to name just two), not to mention being heavily involved with research and teaching. In more recent years he was  a Treasurer and Trustee of the Trinity Association and Trust.
Mike highlighted the fact that for many years Brian has been an integral part of the fabric of, not only the School of Chemistry, but of Trinity College itself.  He called him "the epitome of the cultured multifaceted Trinity man" and noted that he "acts, due to his continuing almost daily presence within the School, as an active link between the 'old' Trinity of years past and the modern Trinity of rapid change and flux facing the demands and opportunities of the early 21st century".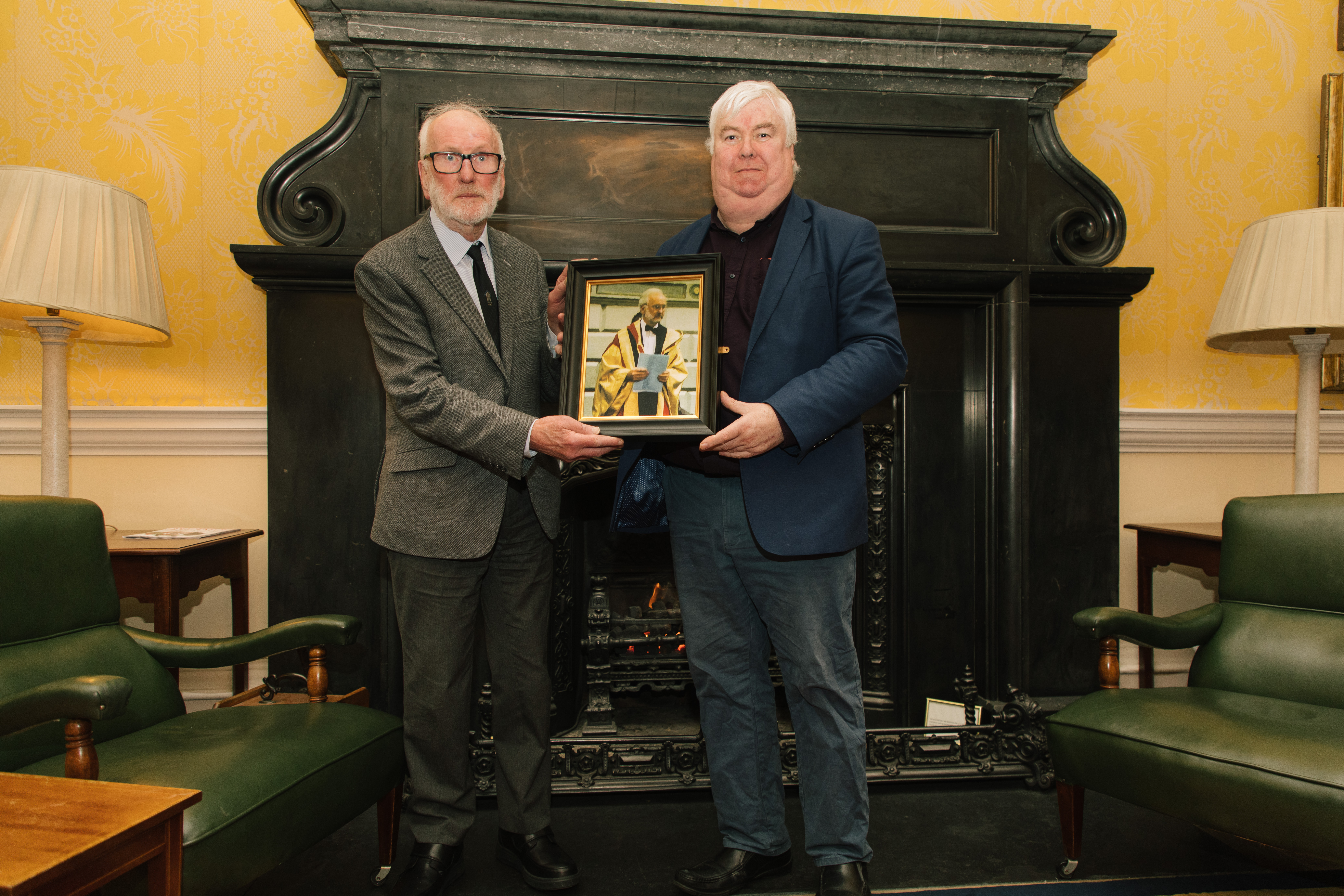 Brian then took to the podium to thank everyone for coming, and to thank the brilliant speakers in particular.  He went on to regale the audience with some fascinating anecdotes from his early days here in Trinity College and also recounted some of his favourite memories from his days in Harvard working to synthesise vitamin B12 with Nobel prizewinner, Prof. R.B. Woodward.

The School of Chemistry were delighted that the event was so well attended by a wide range of current and past staff and colleagues from all over Trinity. Brian himself was thrilled and grateful to see that so many had come out to celebrate his 60 Years a TCD Fellow.
Congratulations Brian!
For more photographs of the event, see our Photo Gallery (Photo Credit: Katie O'Neill)
---
Chemists create self-assembling material with suite of new properties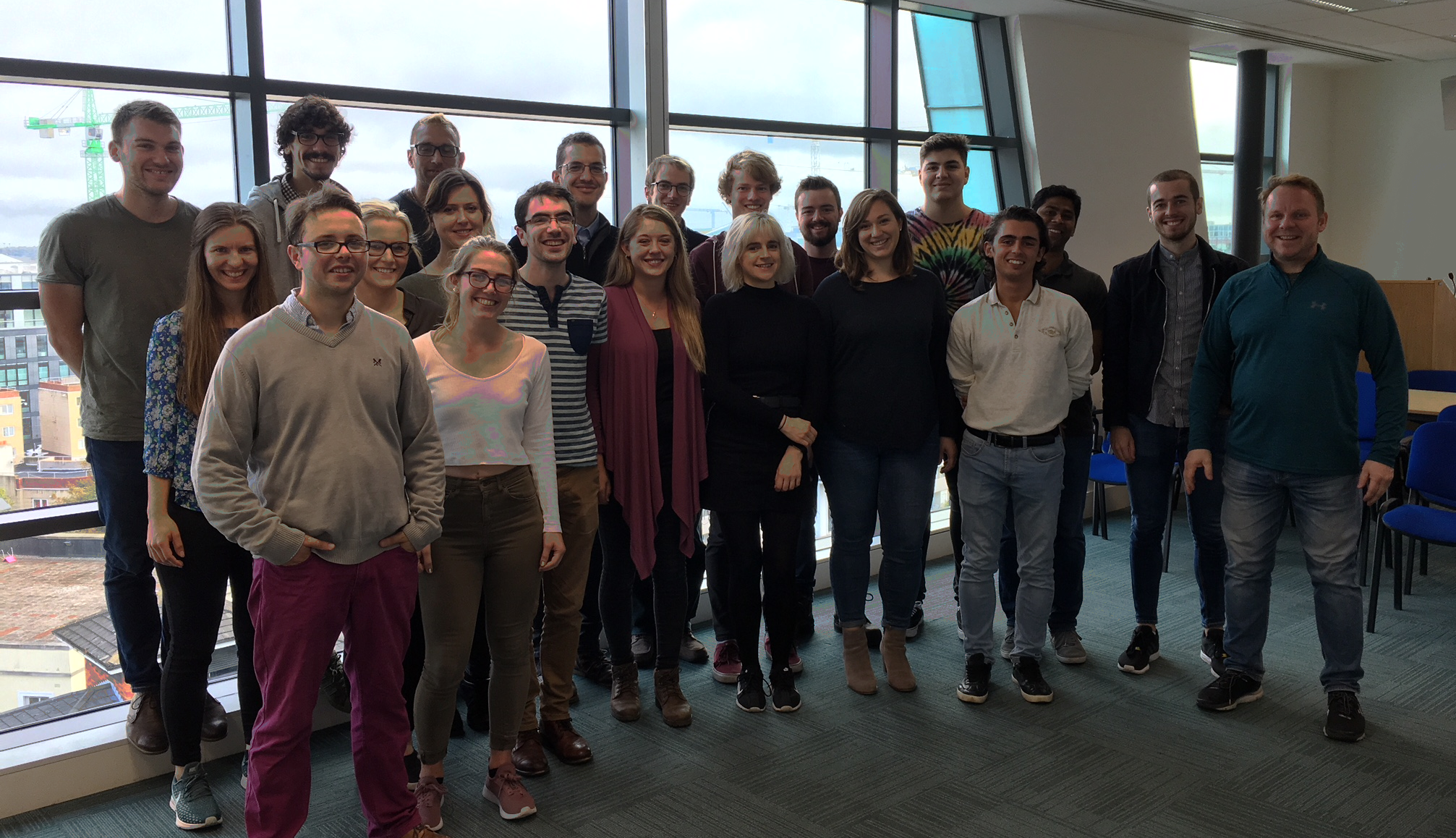 Congratulations to Professor Thorri Gunnlaugsson and his Research Group on their recent breakthrough!
All details on this link: https://www.tcd.ie/news_events/articles/chemists-create-self-assembling-material-with-suite-of-new-properties/
---
The Great Chemistry Bake-Off!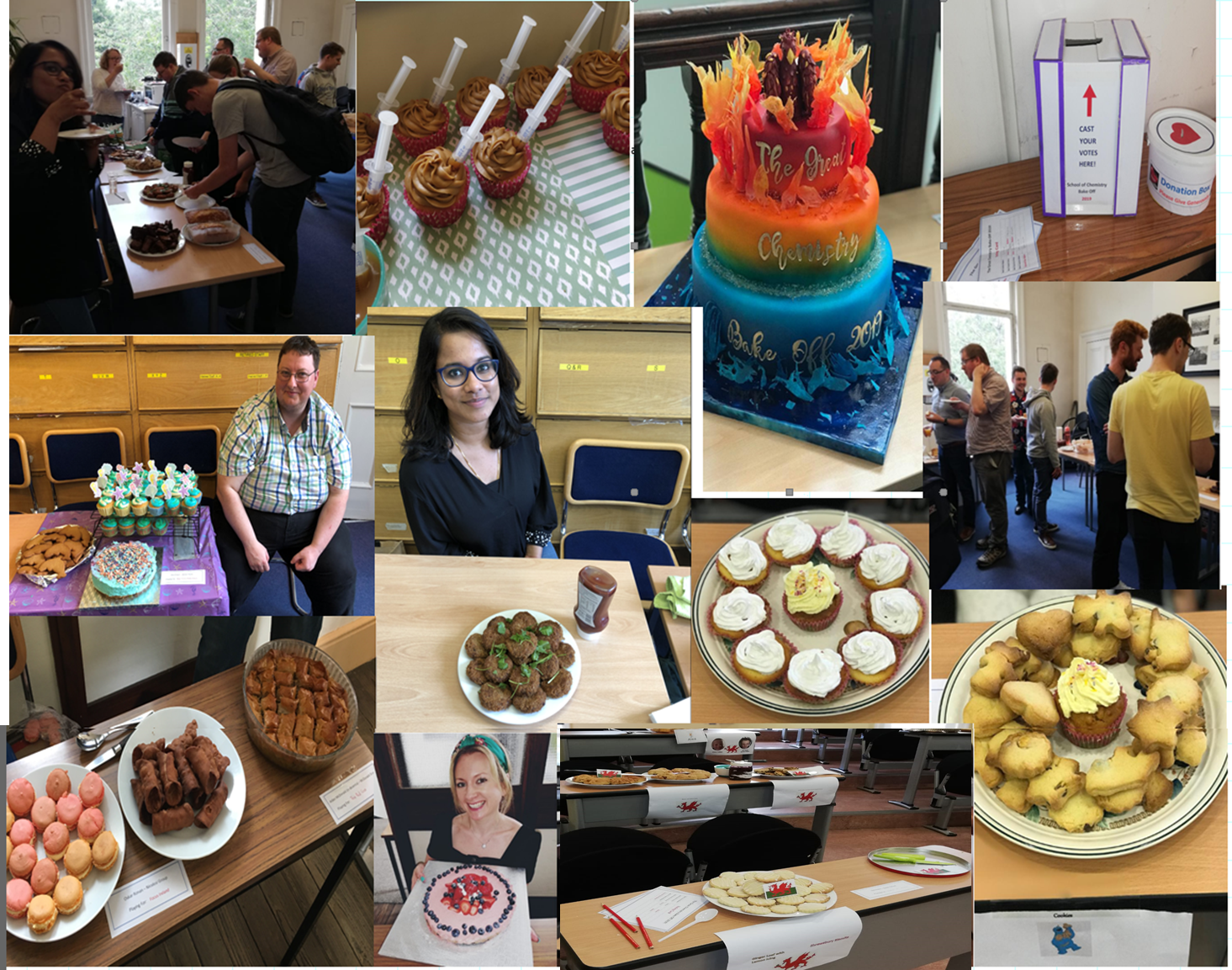 Monday, August 12th saw the Chemistry building resemble something more like a bakery café as staff and postgraduate students alike put their talents on display to compete for the prestigious title of Star Baker and the right to wear the stylish Star Baker apron! Donation buckets were placed strategically around the food with all money collected to be donated to the chosen charity of the winning baker.  Not to be outdone, several junior guests also competed in a special Junior Baker category.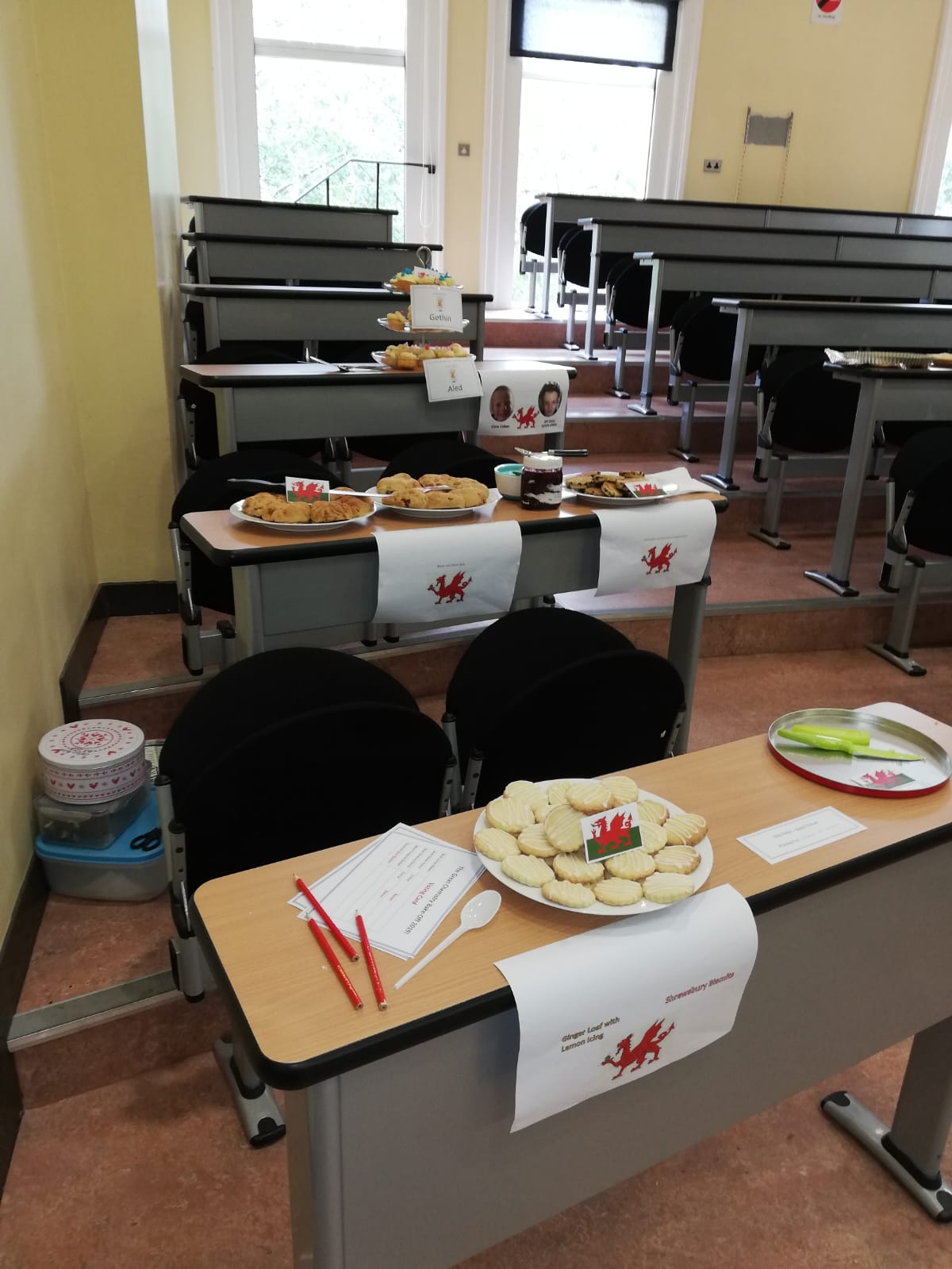 There were high standards from all 24 entries; sweet and savoury bakes were on offer and were quickly devoured by the very willing tasters. Voting cards were distributed and filled in to determine the category winners and the overall Star Baker.  Winners included Oskar Ronan in the Best Savoury category for his onion bread with bacon jam, The Colavita Research Group in the Best Sweet category for their heart shaped "Torta della Nonna" (Grandmother's cake). The Junior Baker category was won by Gethin and Aled Baker (Bakers by name, Bakers by Nature!) with special mentions going to Joe, Millie, Anna, Áine and Sam for their efforts.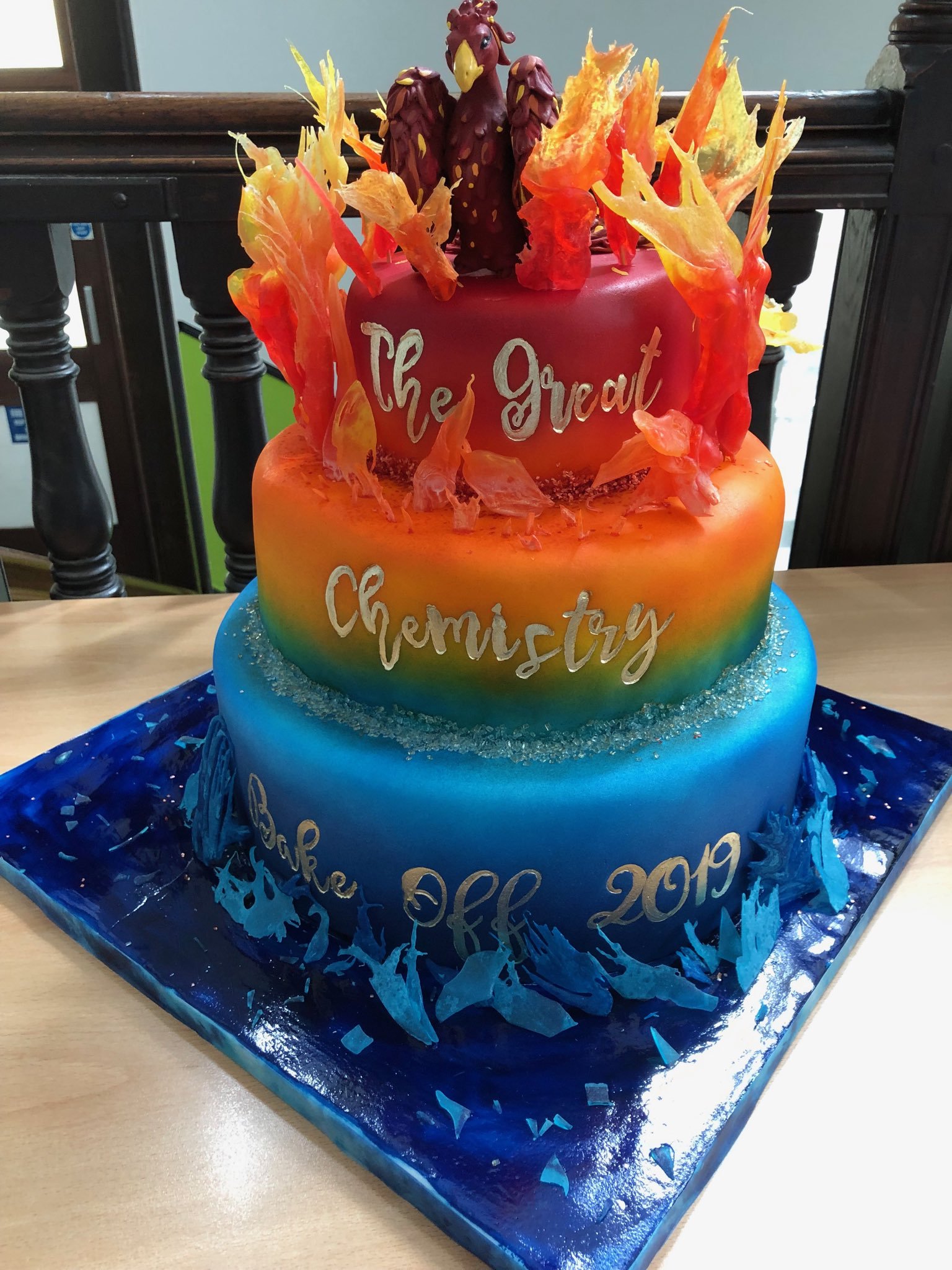 But there was one outstanding entry that could not be matched in in the Most Creative category. Prof. Valeria Nicolosi produced a stunning two-tier plus base creation with a fiery theme – a reference to the recent incident that saw a part of her lab damaged by fire. Gluten-free and sitting on a decorated base, the first tier of the stunning creation was a red velvet cake with cream cheese icing while the second tier was vanilla sponge with a Nutella ganache. Each tier was finished with an ornately decorated layer of fondant icing with edible isomalt "flames" reaching up to a sugarpaste phoenix rising from the top. A very worthy winner and the obvious choice for most creative bake as well as for the overall Star Baker Prize.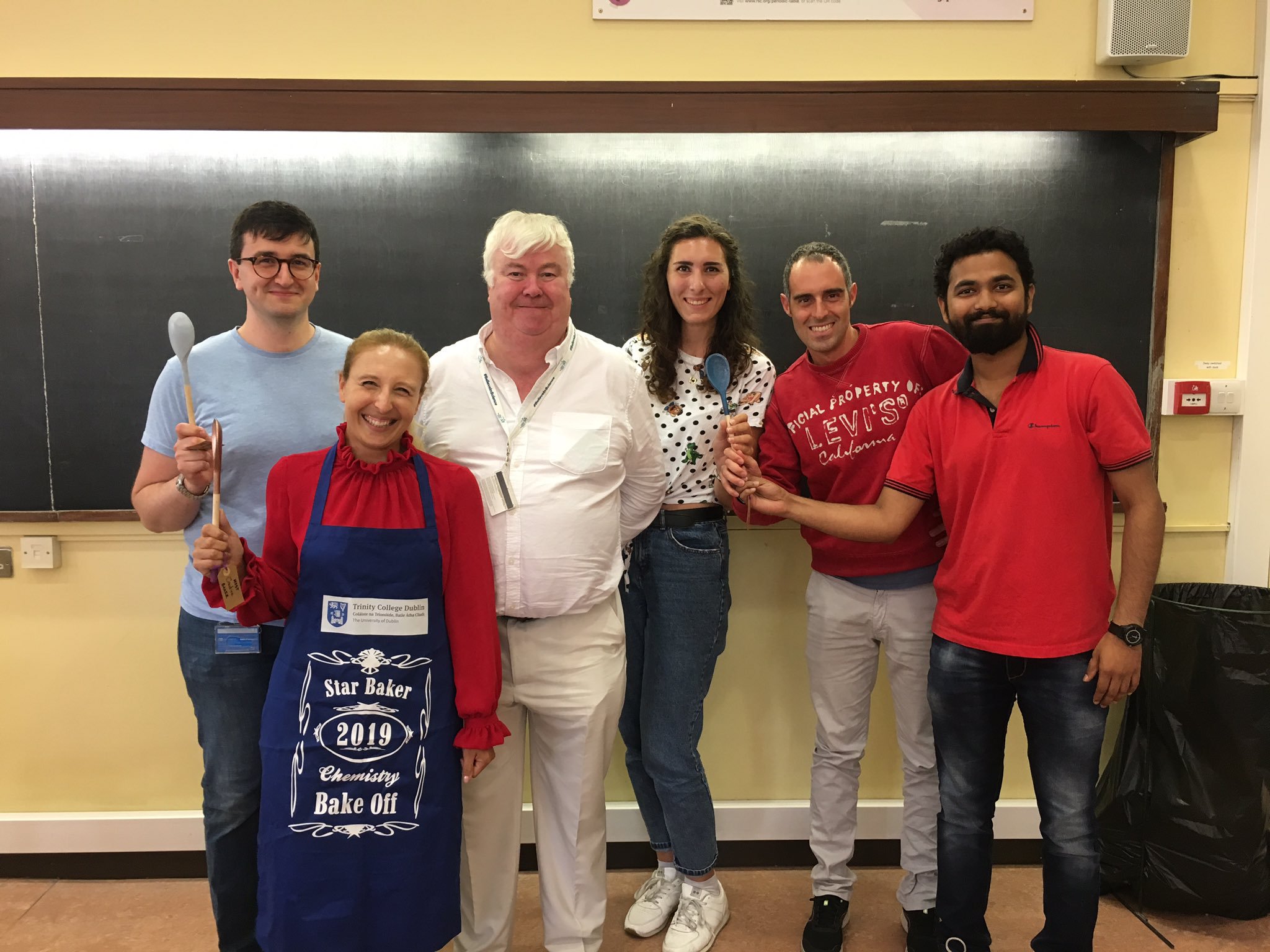 Of course, the main point of the event was to raise some money for charity and Professor Nicolosi chose Focus Ireland as the beneficiary for the donations. A total of €260 was raised at the event and presented to a representative from Focus Ireland earlier this week.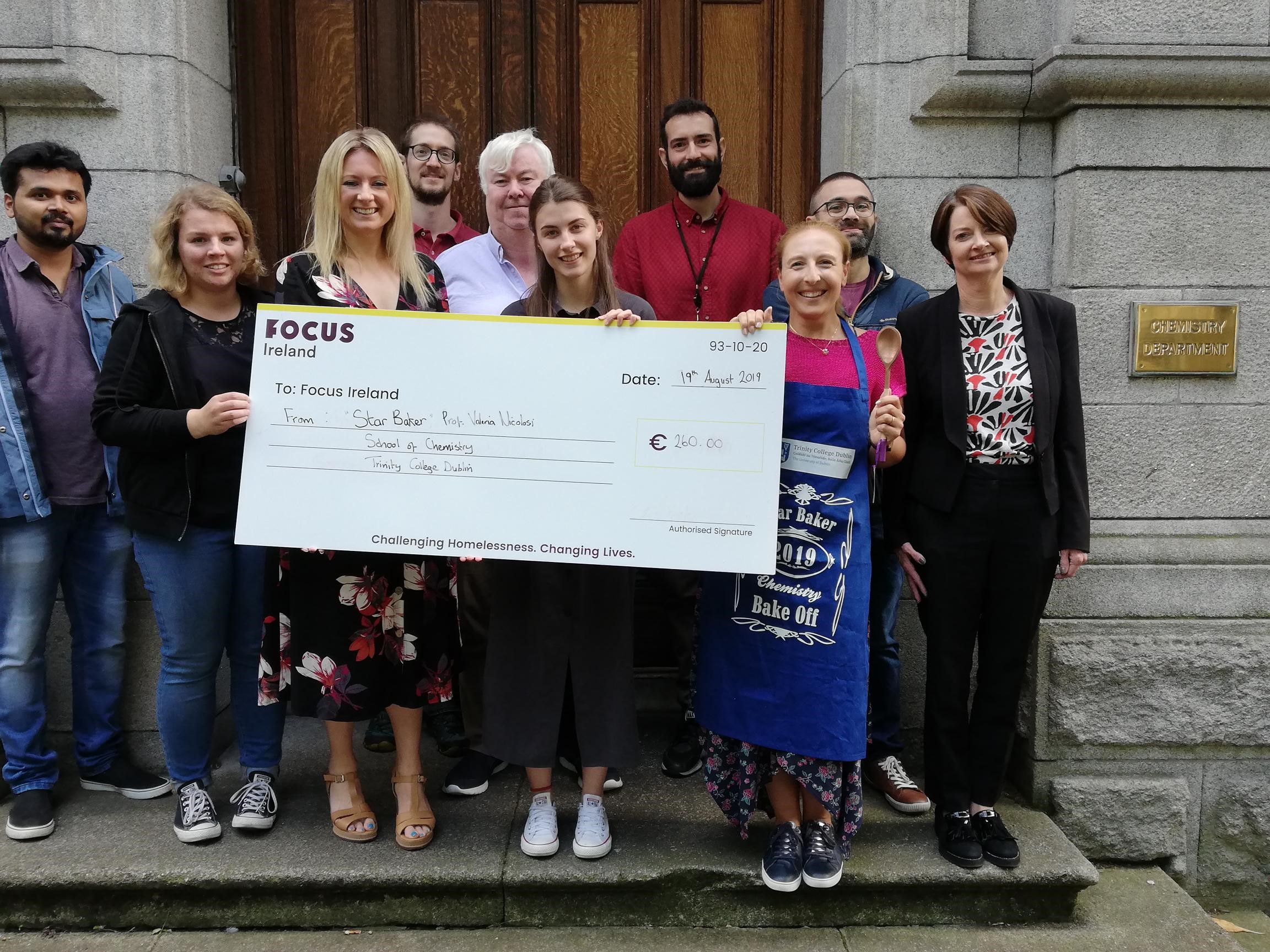 Overall the event was a huge success and greatly enjoyed by everyone who attended. Special thanks goes to Anne Marie Farrell from the School Office who organized the event and to all 24 bakers who took part in the competition. Plans are already underway for round 2 – Make Chemistry Bake Again! See below for more photos of the event.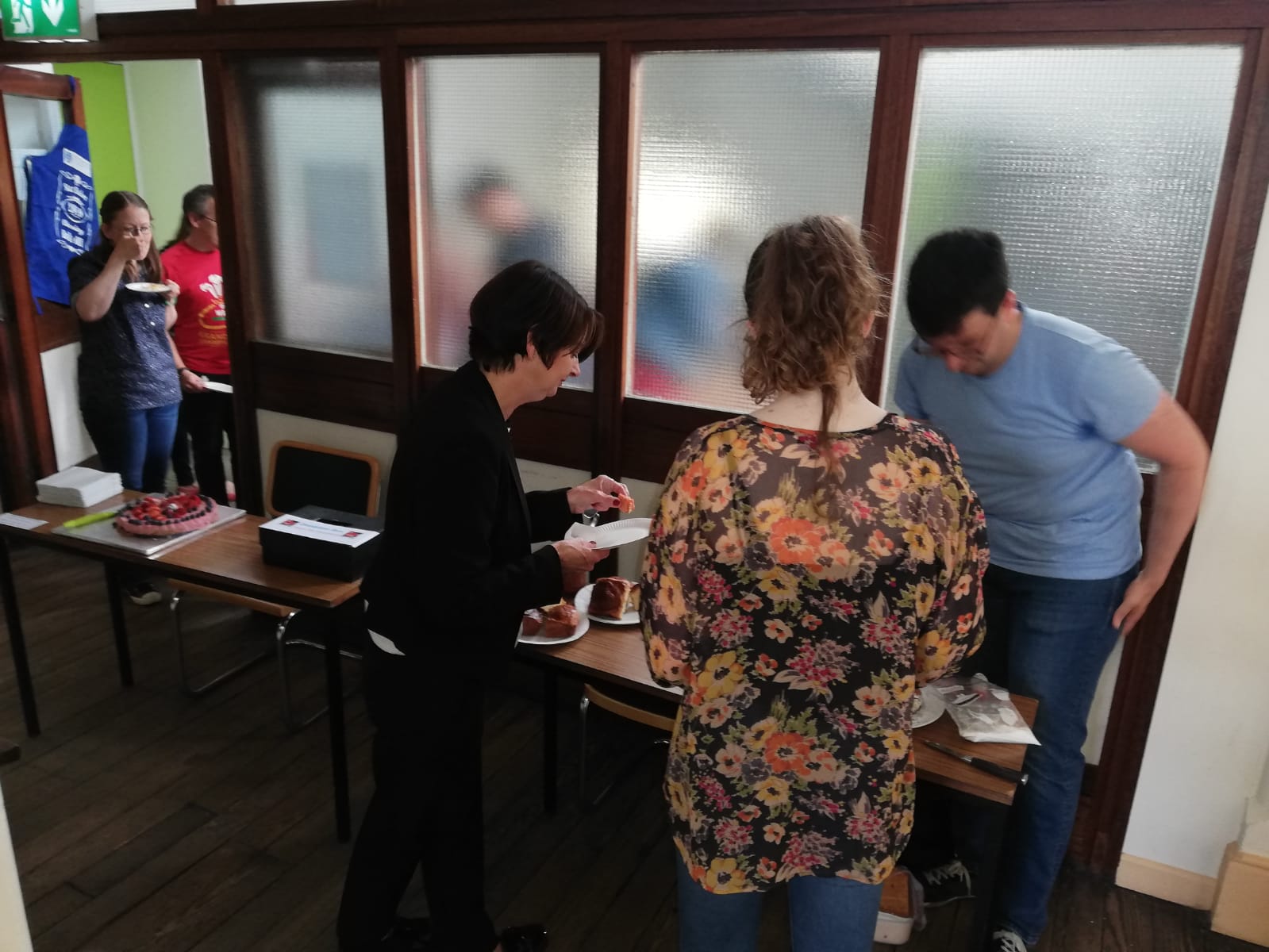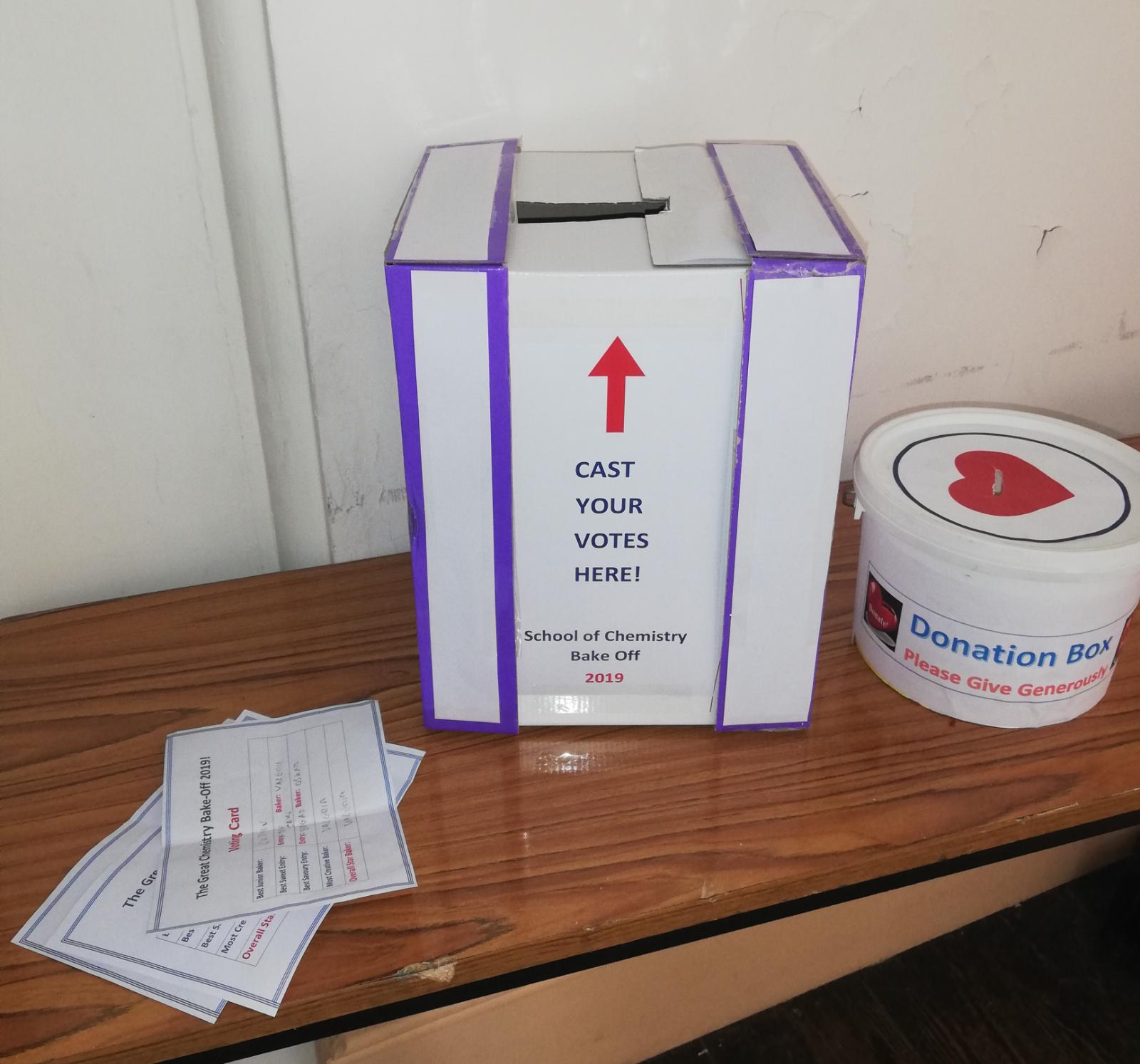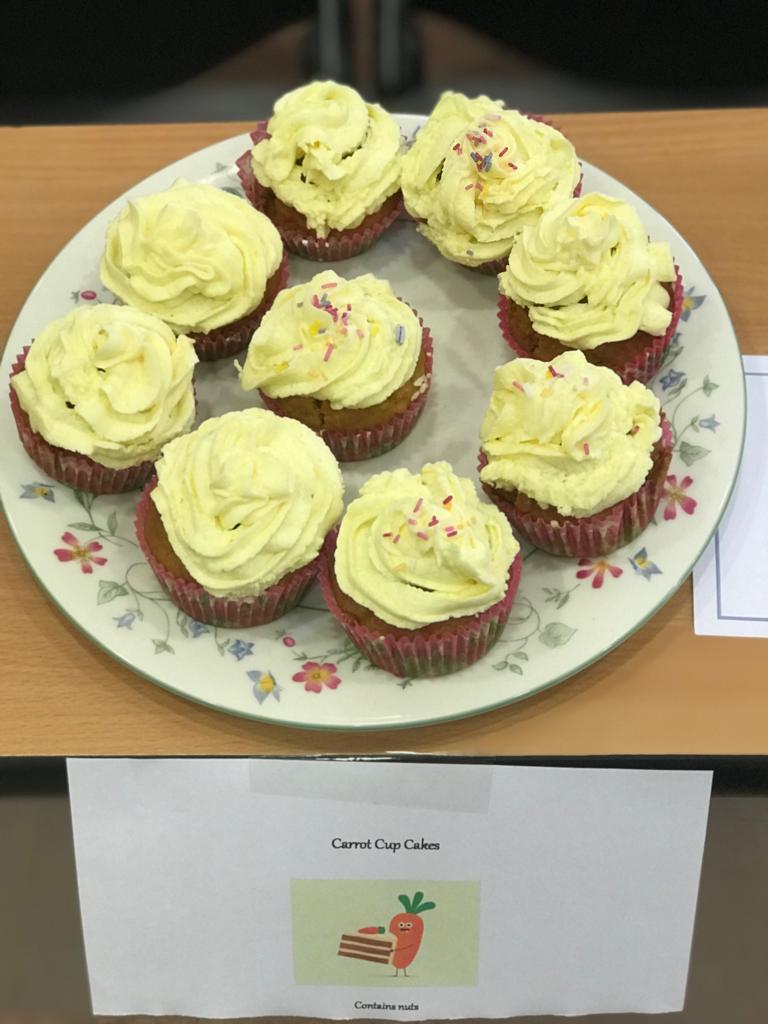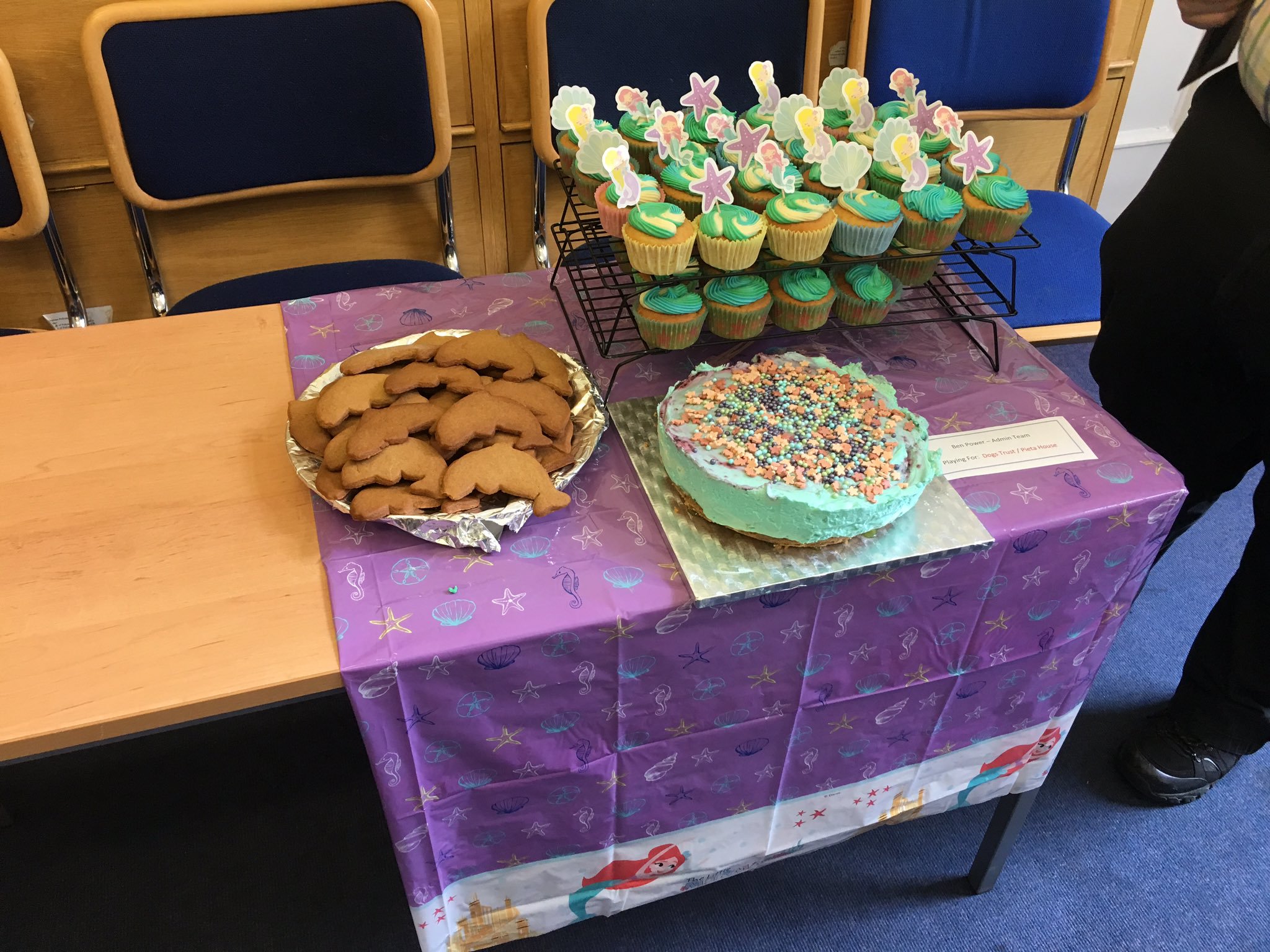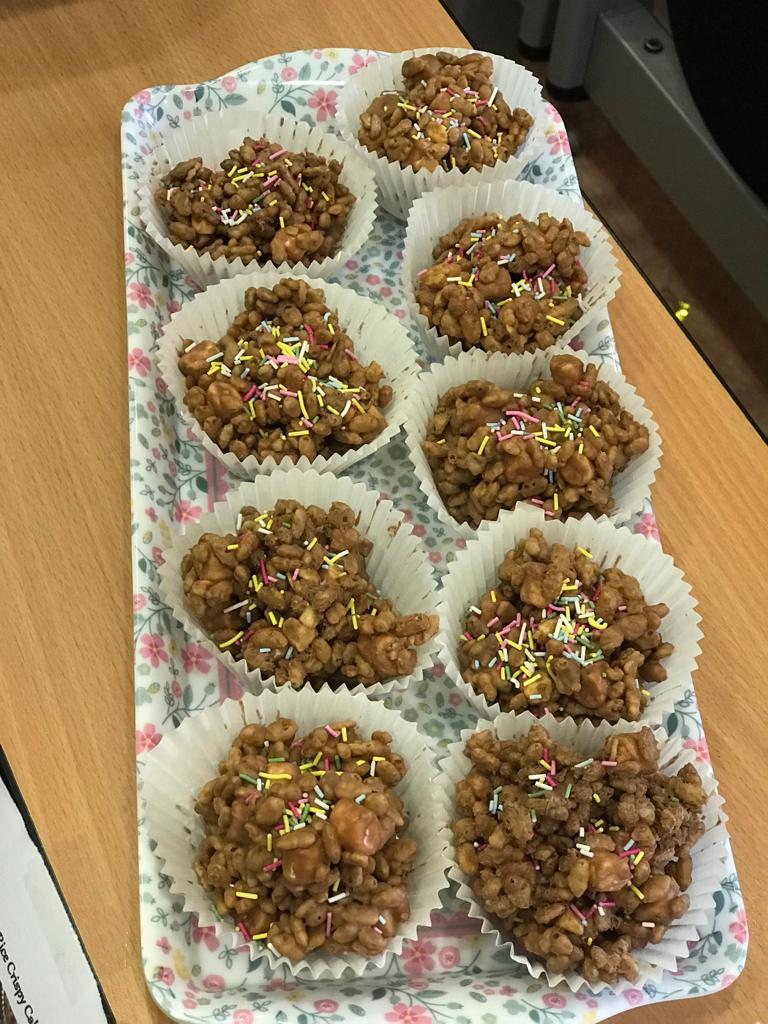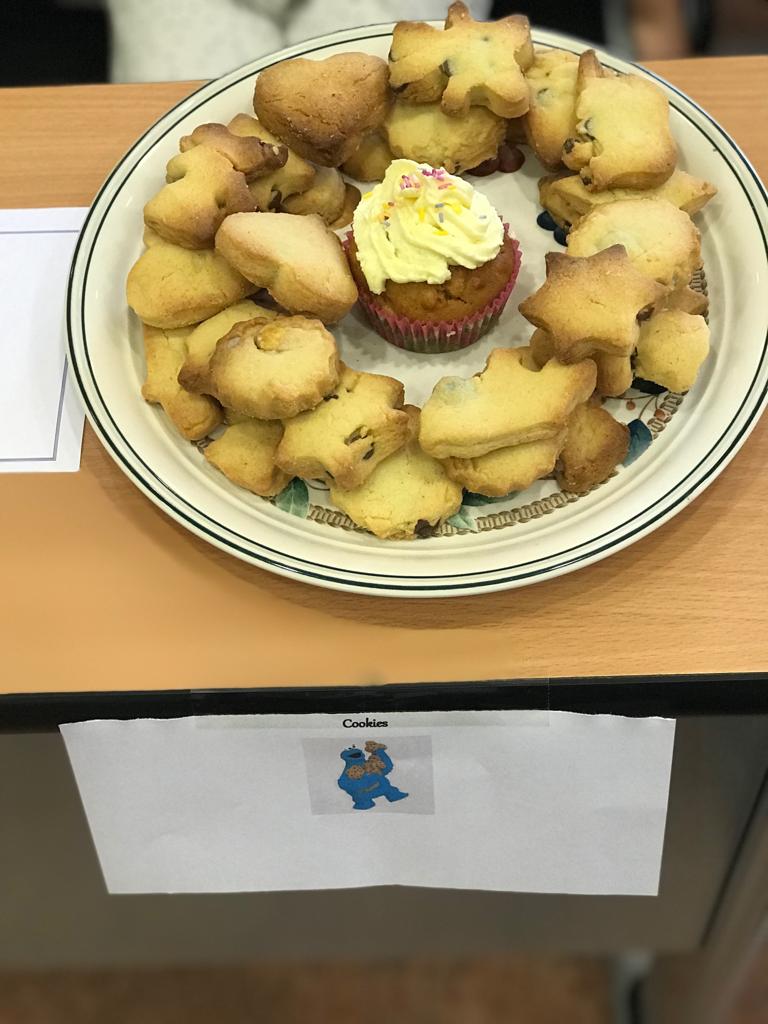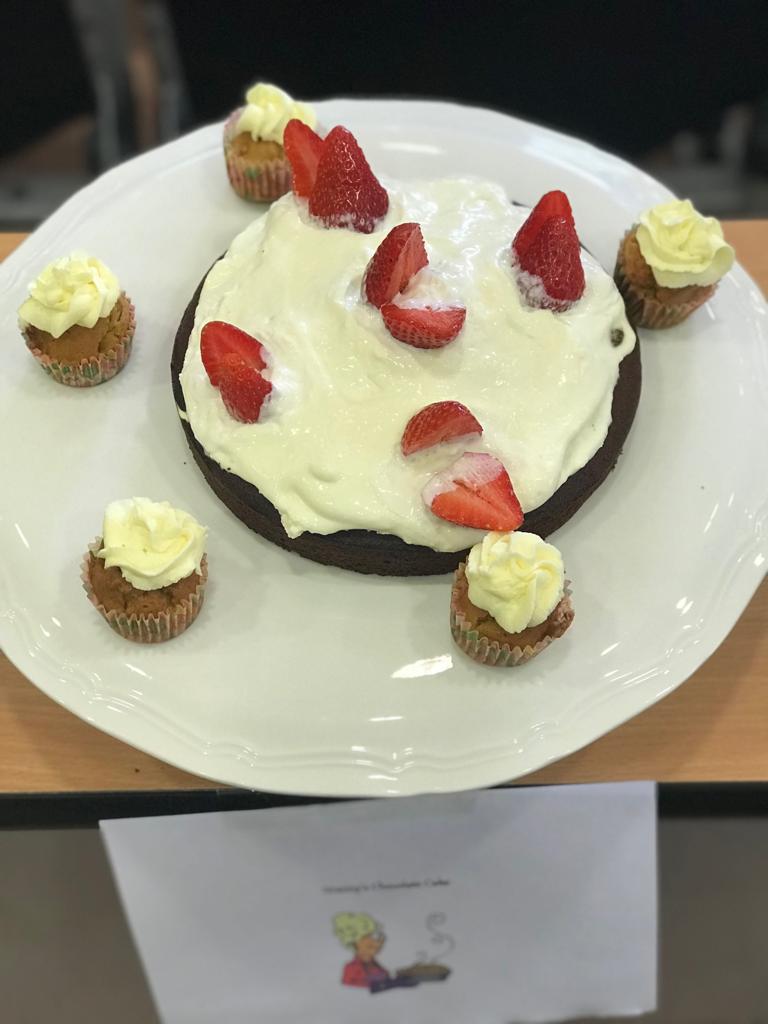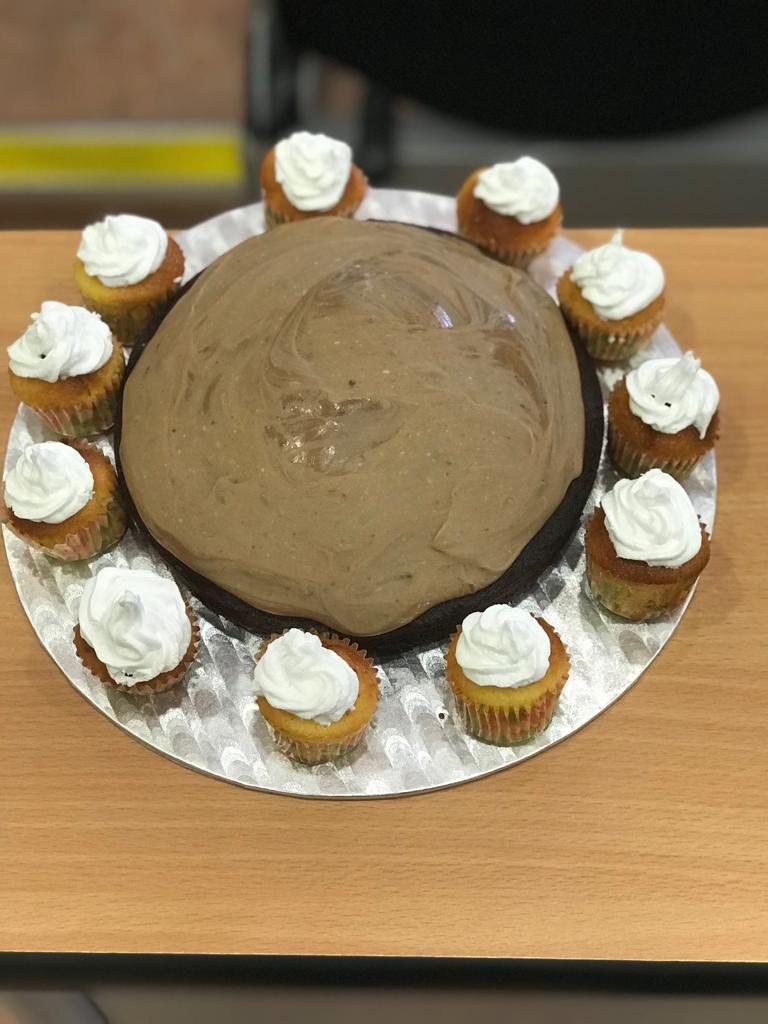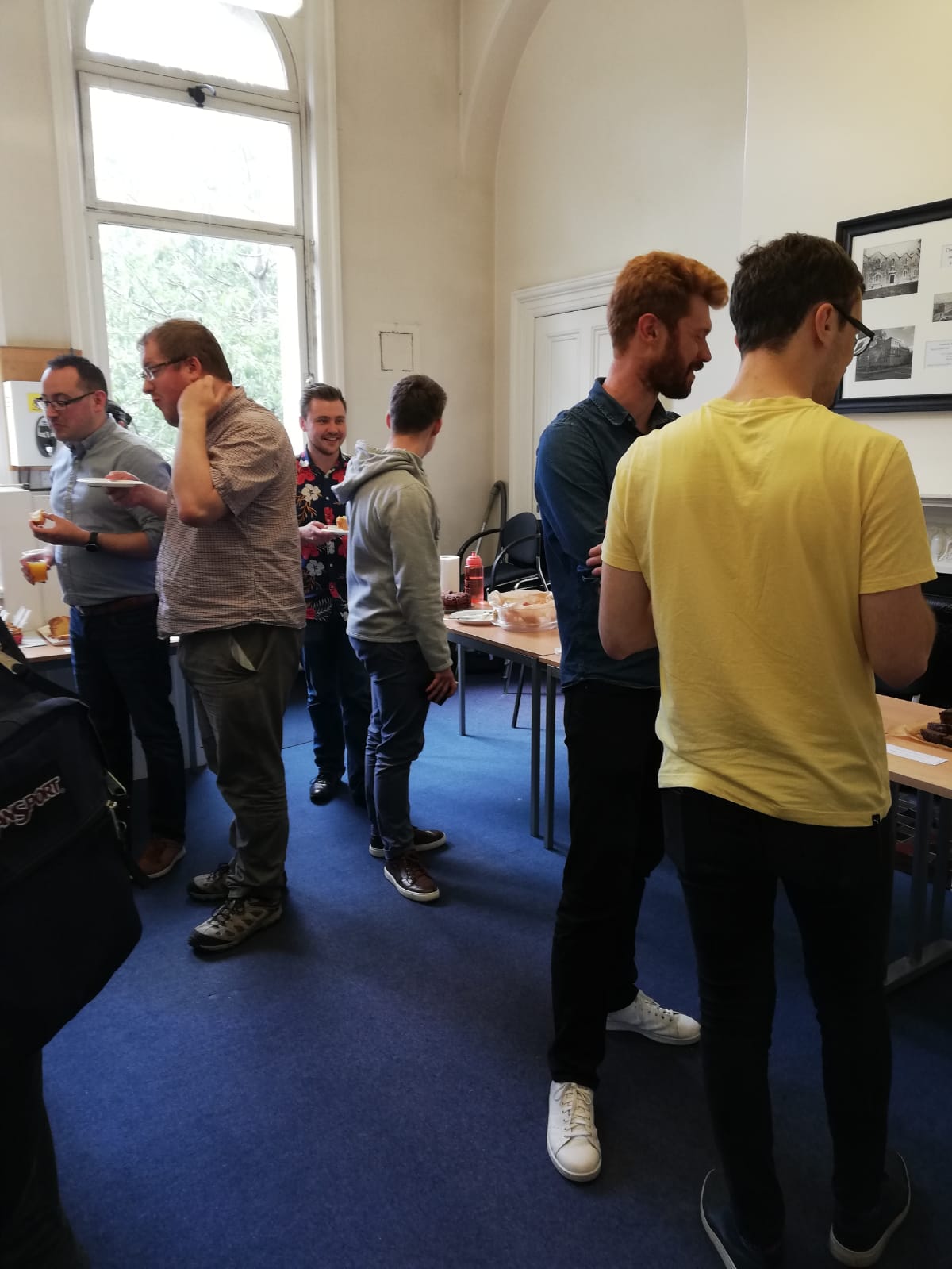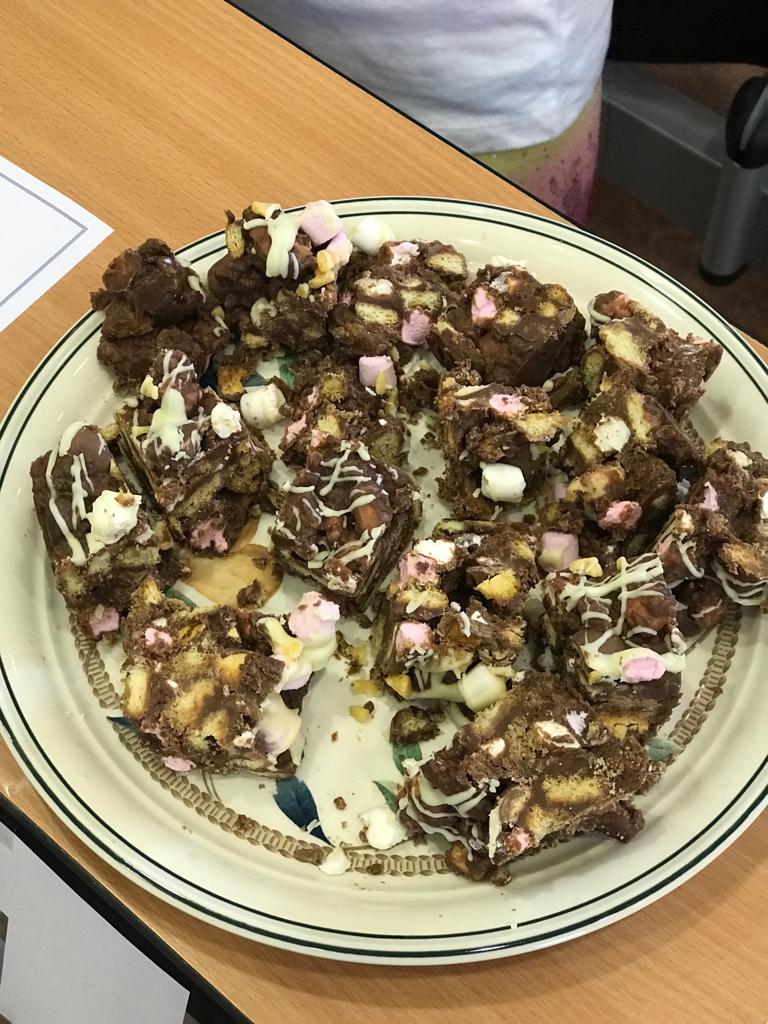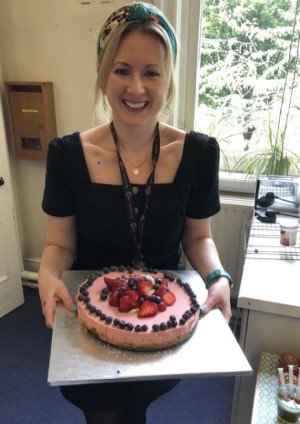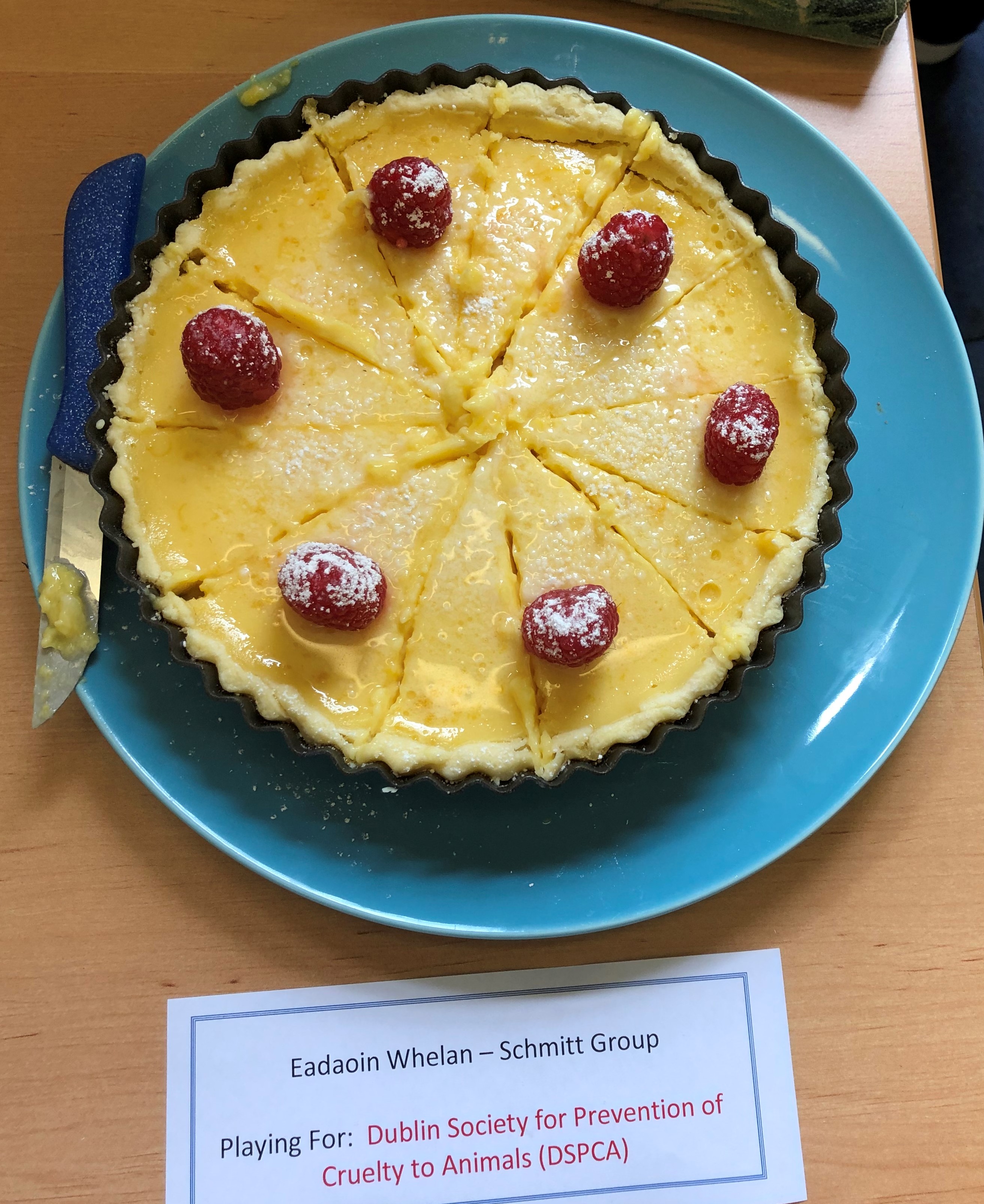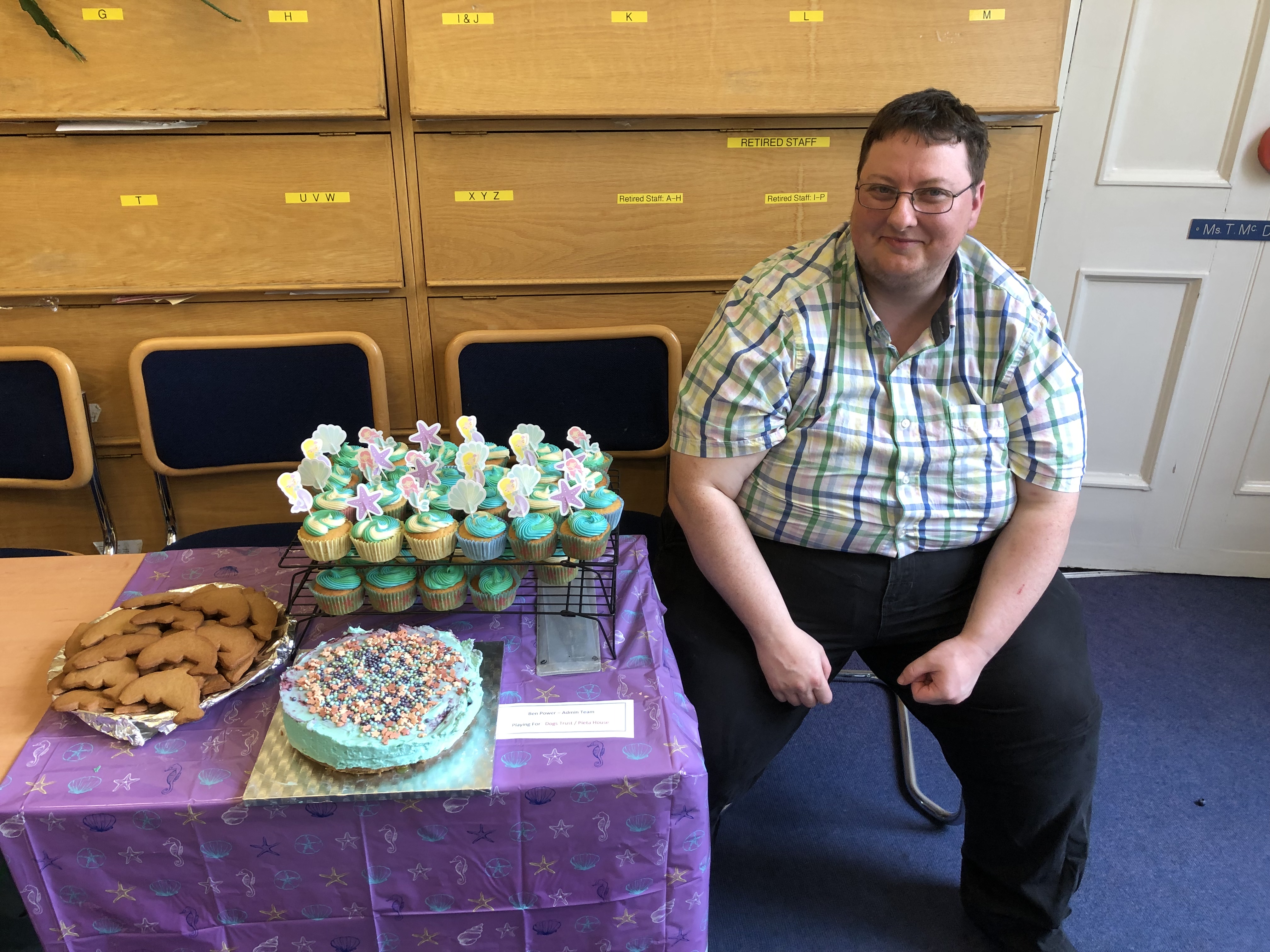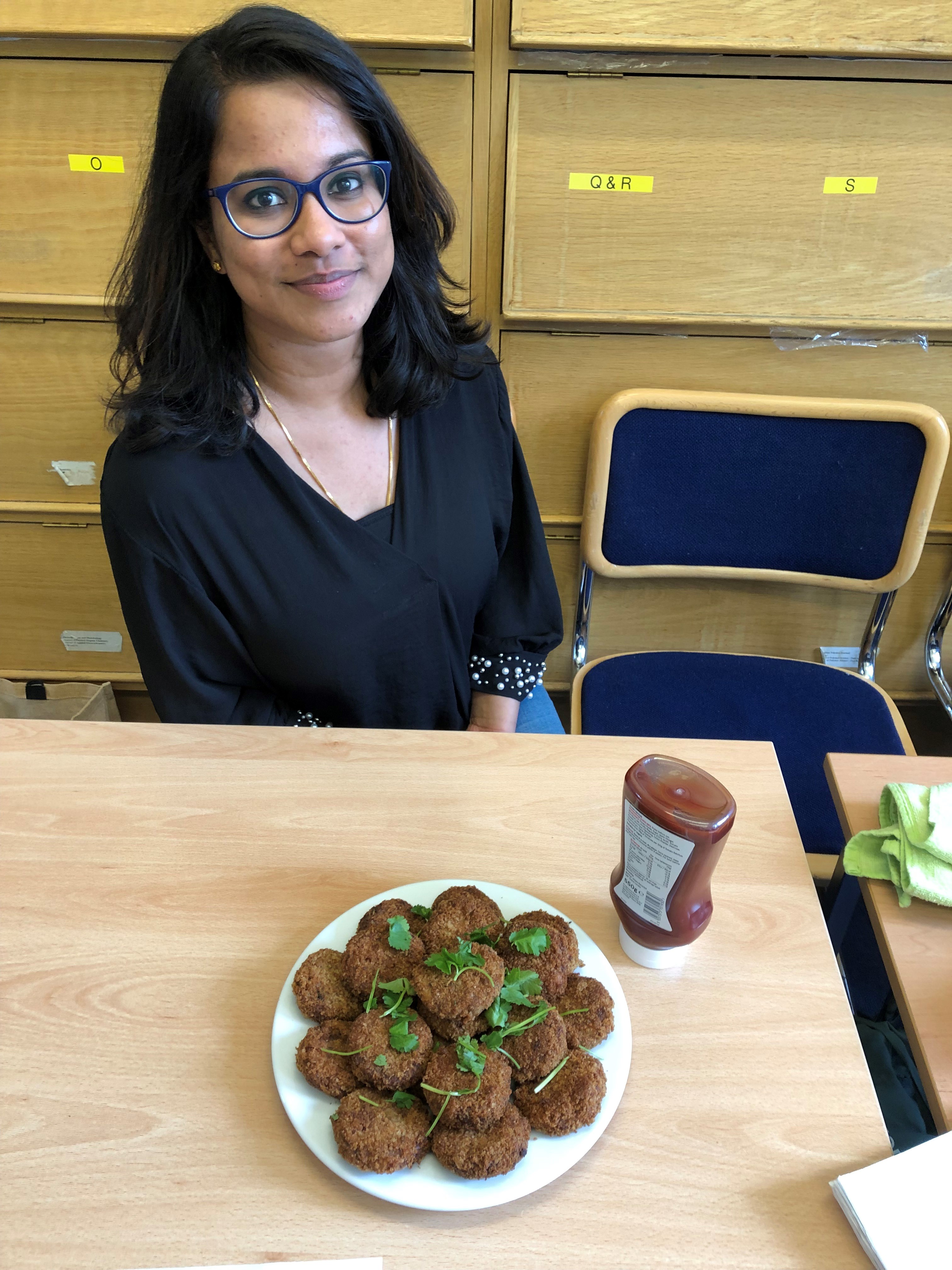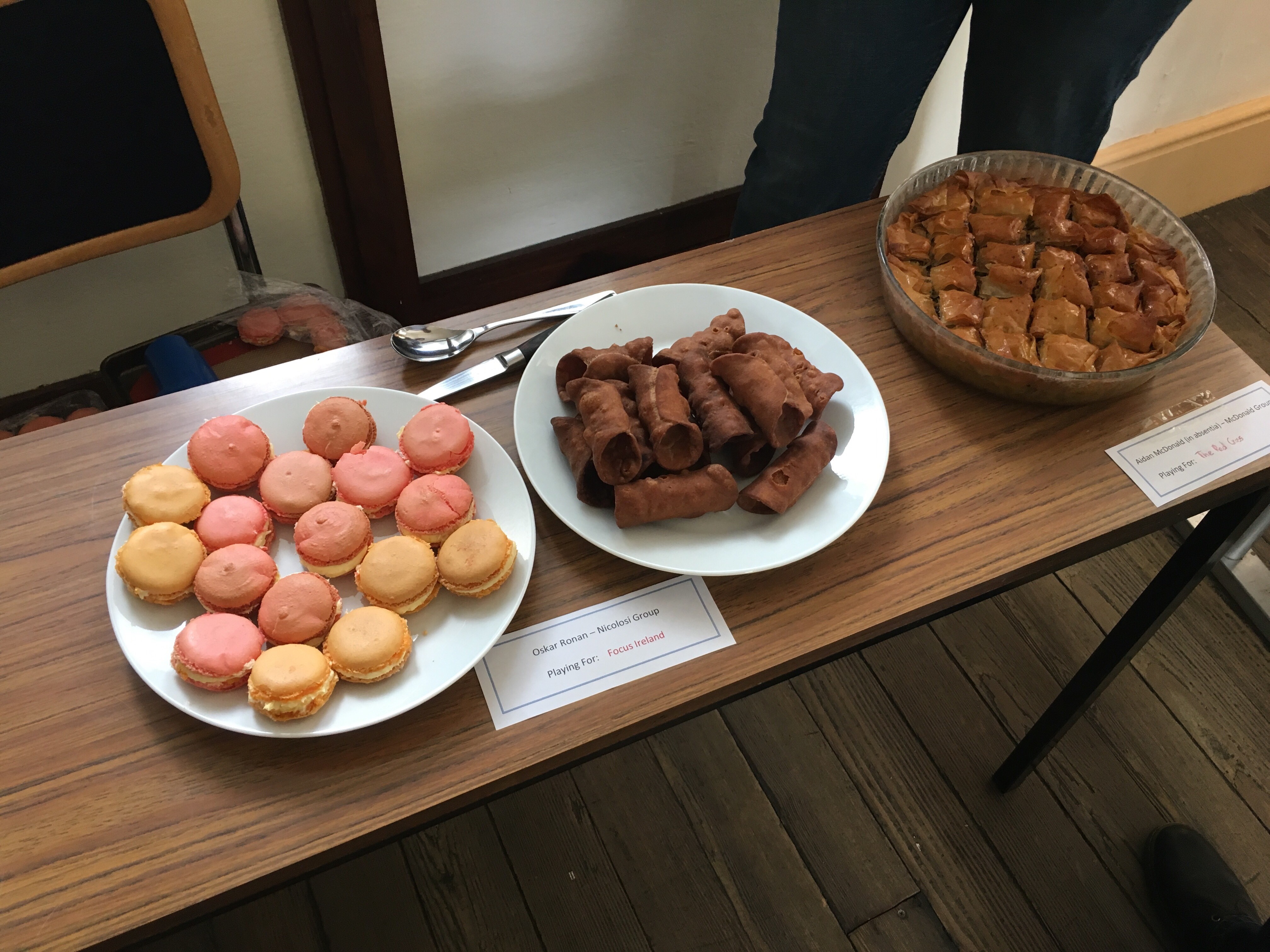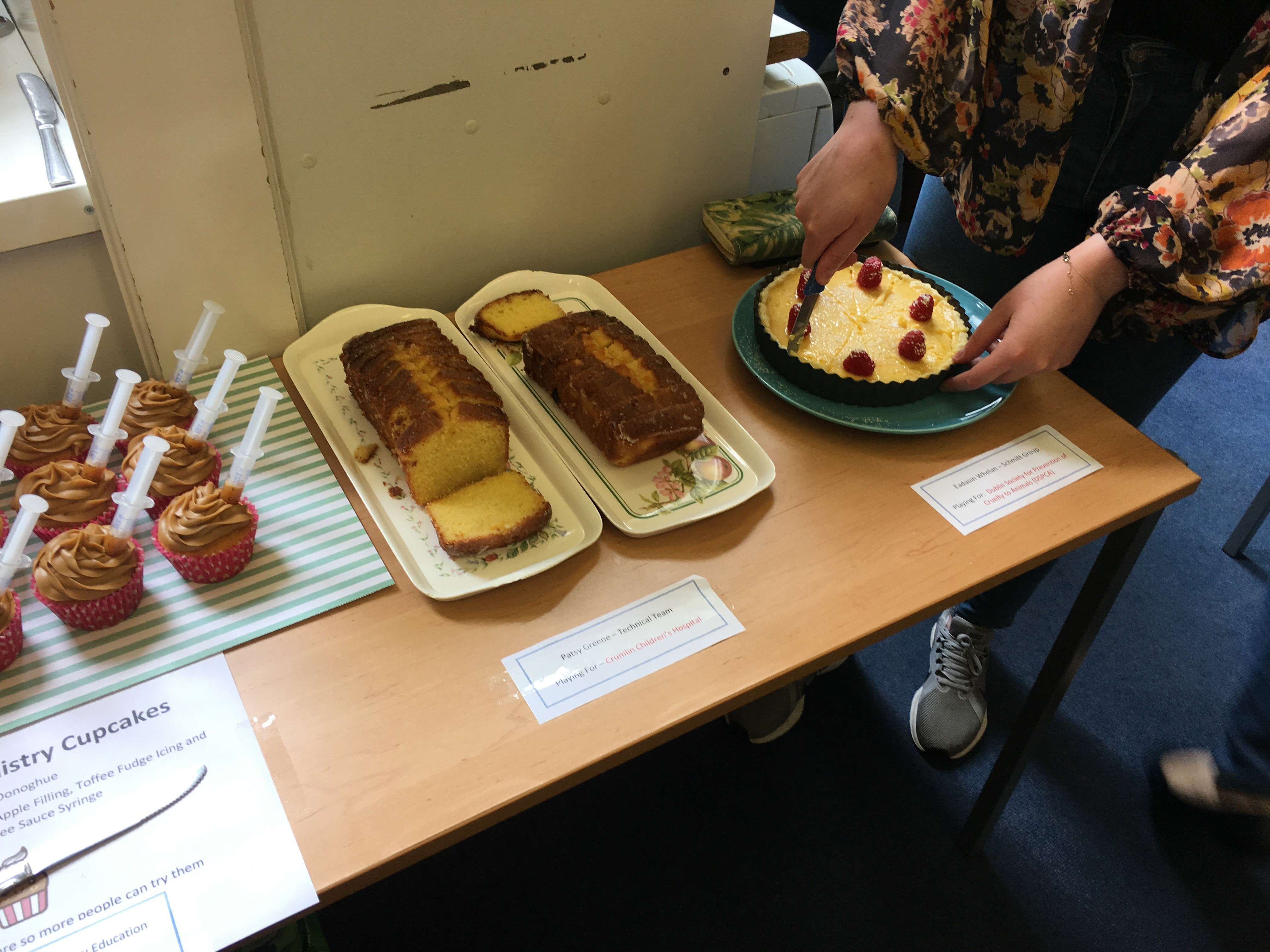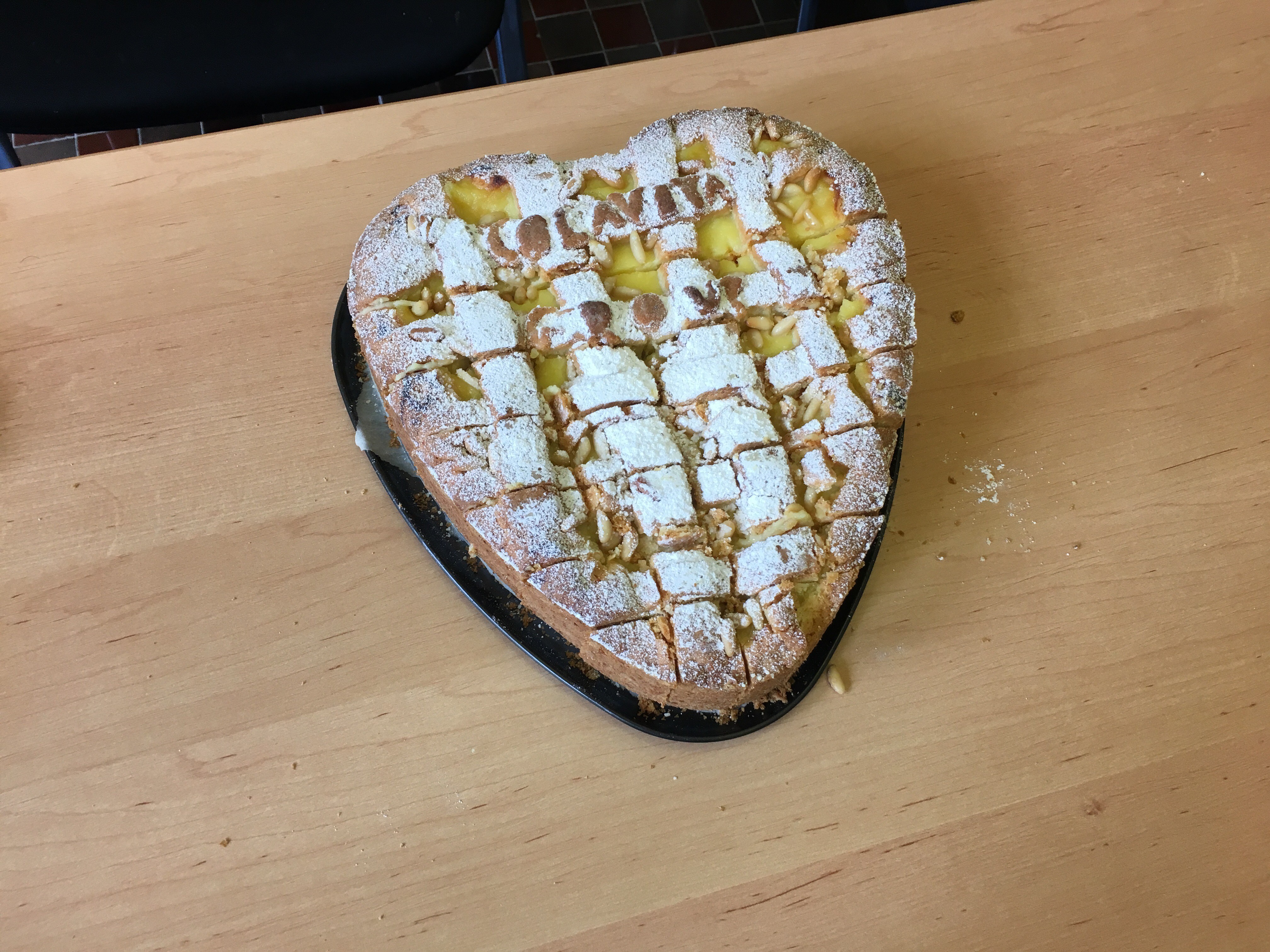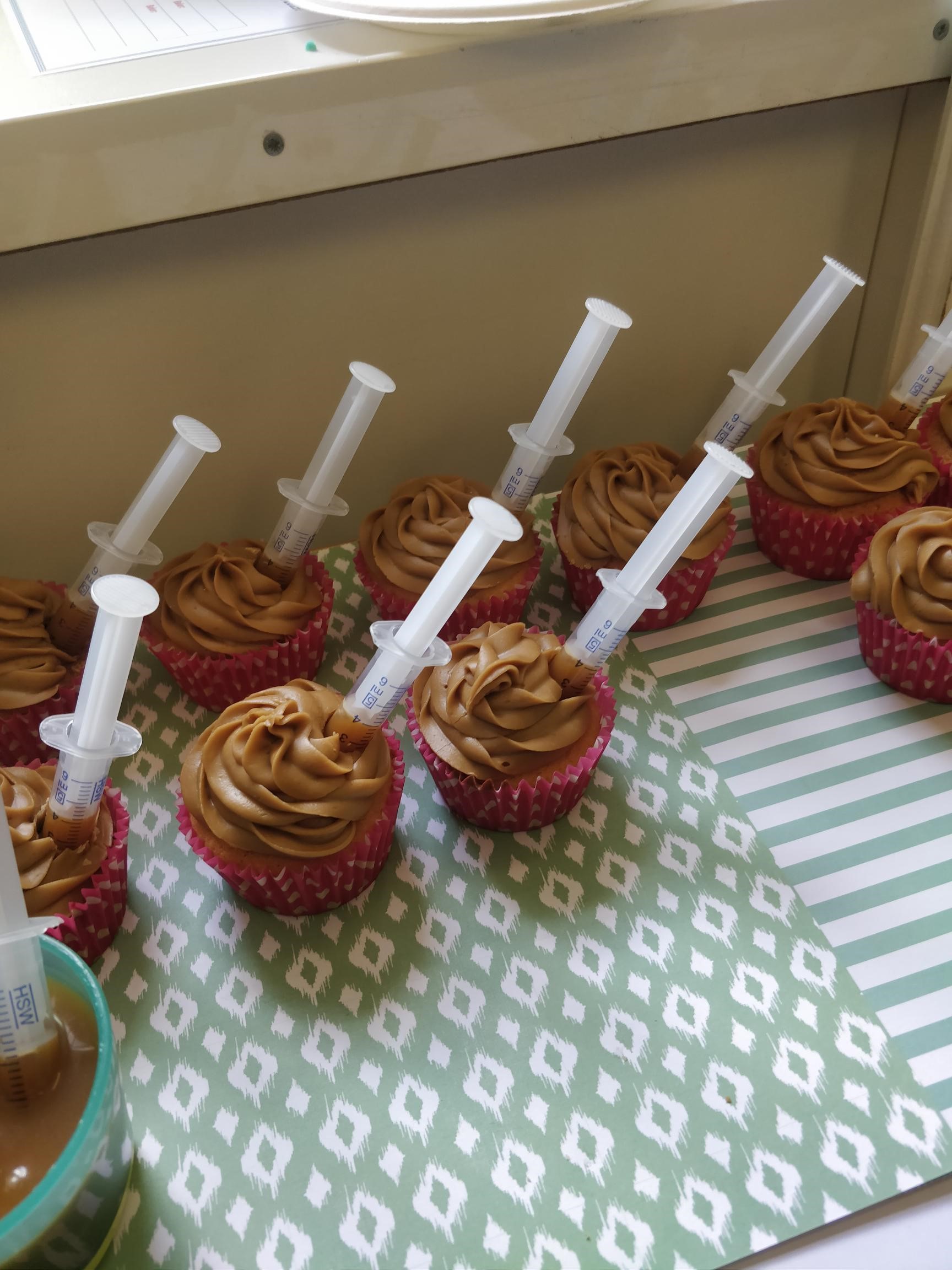 EVENT - Chemistry: A Beacon for the Creative and the Curious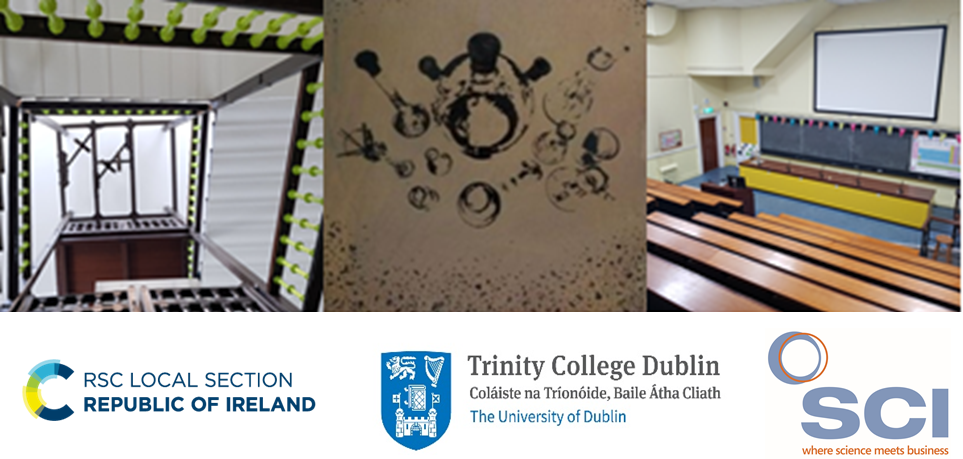 Date: Friday 23 August 2019
Time: 16:00 - 21:00
Venue: Chemistry Building Foyer and CHLLT, Trinity College Dublin
This event merges history, arts, science and philosophy. It recreates the convergence of thinking across disciplines that inspired Mendeleev to conceive of the Periodic Table in 1859 and to give birth to what became known, as elemental theory.
The event has three distinct but overlapping elements for the Creative, the Curious and the Chemist:

• A reception and artists' discussion to mark the unveiling of three unique pieces of artwork on the historic staircase of the Main Chemistry Building in Trinity College Dublin.

• A presentation lecture, which takes us on 'An exploration of Medieval Manuscripts using Spectroscopic Techniques' by Prof. Andrew Beeby (University of Durham).

• RSC and SCI members' AGMs and BBQ.
The event arises through funding awarded by the RSC's IYPT and TCD's Visual and Performing Arts fund and a unique collaboration between the National College of Arts and Design and the School of Chemistry (on the closing of its in-house glass-blowing workshop in 2019).
To attend please register using the following link:
https://www.eventbrite.com/e/chemistry-a-beacon-for-the-creative-and-the-curious-tickets-64696972386?utm-medium=discovery&utm-campaign=social&utm-content=attendeeshare&utm-source=strongmail&utm-term=listing
60 Years a Trinity Man!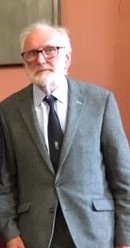 Professor Brian McMurry, Fellow Emeritus in Chemistry celebrates 60 years as a Trinity College Fellow this summer. After becoming a scholar of the college in 1951, Professor Mc Murry was elected as a Fellow during Trinity Week, 1959. In the same year, he was one of the youngest people ever to be elected as a member of the Royal Irish Academy.

Over his 60 years as a fellow, Professor McMurry has seen many changes within the college both to the traditions followed and to the day-to-day college life. He shared some of his memories of the traditions and of Trinity Week 1959:

"There were two Fellows elected in 1959. Bill Wright, Professor of Engineering, and myself. The small numbers were typical of the time. We were the first Fellows required to retire at seventy. Had I been elected the previous year, I could in theory still be a Senior Fellow!
There was a longstanding tradition that new Fellows were not in Front Square to hear their names read out. In earlier years, they would not have known whether they had been elected or not. I had known beforehand, but I followed the old tradition. It did not last much longer, but I cannot remember who the first person to break it was. Instead I followed a Chemistry tradition and went out to Johnston, Mooney, and O'Briens Café and Restaurant in South Leinster Street to buy 'cream buns' for 11am coffee.
There was another tradition that new Fellows were expected to follow. They ensured that every member of the Common Room who lunched in either the Upper or Lower Lunch Rooms were given a glass of dry sherry with the Fellow's complements. I was a teetotaller at the time, but I still followed the tradition. The practice was later dropped and replaced by the presentation of a piece of silver by the Fellows to the Common Room. I know that the new Fellows presented a piece of silver in 1968, but I do not know when it changed. The change may have occurred because the number of Common Room members lunching had significantly increased or alternatively the number of new Fellows increased so it might have been a cheaper option.

In 1959, Trinity Week started it started a week after Trinity Monday. The Regatta at Island Bridge was held on the Saturday before. The week itself was much more structured back then. There were hockey and cricket matches between present and past members of the clubs. The Elizabethan Society held a Garden Party in the Provost's Garden, where the ladies showed off the latest fashion and tickets for this were highly valued by the male students!

On the Wednesday, there were the College Races. The President turned up, was formally greeted by the Provost. The Garda No1 Band played the Presidential Salute, and then entertained everybody with light classics. Strawberries and cream were served to the platform party and judges and spectators alike wore formal morning dress. I remember the judges: Jacky Wallace, the College doctor, Willy Pearson, the acerbic Professor of Surgery, Harry Booker from the accountant's office, and Vincent Denard, who is now over ninety! After the races were over, the parties began. Both staff and residential students hosted parties in their rooms and RBD French was reputed to give the best staff party. It was the only day in the year when women were allowed into student rooms after 6.00pm.

On Friday there was the Ball which, in 1959, was held in College for the first time. When I was a student, it had been held outside College. There were two venues, the Gresham Hotel and the Metropole Ballroom, both on O'Connell Street and Students had to choose between them.

One final memory. At the New Fellows Dinner, the Provost introduced Bill Wright, referring to his career before he came to College, undergraduate in Glasgow. interrupted by Army service in the Royal Engineers during the war, graduated in Glasgow, PhD in Aberdeen, staff member at the University of Southampton. He then turned to me. I was, he said, 'A Trinity man, pure and simple'.
My case rests."

A Trinity man, pure and simple indeed! Congratulations Professor McMurry. May your fellowship continue for many years more!
Professor Sylvia Draper appointed as Dean of the Faculty of Engineering, Maths & Science


The School of Chemistry was delighted to hear last week that Professor Sylvia Draper has been elected as the new Dean of the Faculty of Engineering, Maths and Science. Professor Draper was the first Trinity recipient of both a Provost Teaching Award and a National Award for the Integration of Research Teaching and Learning (NAIRTL) in 2008. She is heavily engaged in student-led teaching and scholarship and has been nominated by students for the Provost's teaching award annually since its inception. She has held several senior management positions as Head of Discipline in Inorganic and Synthetic Materials from 2003-11 and as Head of the School of Chemistry from 2013-17. In 2017 she was elected as a Fellow of the Royal Society of Chemistry (RSC). This was in recognition of her contribution to the discipline and of her role as the sole Irish representative on the Society's Dalton Division Council and several of its award committees. She is currently the Irish Representative on the RSC Heads of Chemistry UK standing committee and the Chair of its local Irish section (the first female holder of this position).


A strong advocate for Trinity, Professor Draper has been on a number of senior appointment, selection and review committees both internal and external to College. She is currently the Chair of the College Library and Information Policy Committee, a role which has involved her in furthering the strategic objectives of its library and IT academic support services. She is passionate about the public promotion of science and continues to work closely with the Higher Education Authority and others, on matters of educational policy and outreach. She has a number of educational publications and is an active contributor to RTE Brain Storm, a platform for public engagement in science.


We in the School of Chemistry would like to congratulate Professor Draper on her election and we are very much looking forward to working with her in her new role.

---
Professor Jacqueline Barton gives Cocker and RSC Centenary Prize Lecture


Friday May 17th will remain in the minds of Chemists for some time to come.

Not only was it the day that the latest cohort of TCD Chemistry graduates received their degree results but it was also the day that Professor Jacqueline Barton and her husband Professor Peter Dervan came to visit the School. They talked to current PG students, attended a mini-symposium showcasing DNA-based Irish research and later concluded their visit with Jackie's captivating lecture on DNA-signalling.

Prof. Jacqueline Barton is the first female person to present the Cocker Lecture in the School. This lecture, held biennially, honours the contribution to Trinity's School of Chemistry by Wesley Cocker who was the Chair of General Chemistry and University Professor of Chemistry until 1978. In addition the talk formed part of a short lecture series given by Prof. Barton and arising from her award of the Royal Society of Chemistry's Centenary Prize in 2018.

Professor Barton is the John Kirkwood and Arthur Noyes Professor of Chemistry and Norman Davidson Leadership Chair of the Division of Chemistry and Chemical Engineering at the California Institute of Technology (CALTECH). She is the winner of numerous awards that include the National Medal of Science in 2010, the American Institute of Chemists Gold Medal in 2015, the Pupin Medal and the Van't Hoff Award in 2017 and the National Academy of Sciences Awards in Chemical Sciences in 2019. Her research over the last two decades provides insight into how DNA communicates electronically along its backbone (across a region that represents over 300 base pairs) and acts as a redox switch to trigger damage-repair mechanisms. Her lecture was rapturously received by over 150 people in the audience some of whom had travelled long distances to be there.

The School is very grateful for the generosity and enthusiasm shown by everyone who participated in the day's activities.

---

Congratulations to School of Chemistry Senior Sophister Class of 2019


Thanks to Professor Valeria Nicolosi who made the wonderful Celebration Cake!
Four years of hard work culminated in a reception for the Senior Sophister class on Friday May 17th. Students gathered in the entrance hall of the Chemistry building to receive their results letters from the Head of School and celebrate their achievements with a glass of prosecco and a piece of the amazing cake handmade for them by SS co-ordinator, Professor Valeria Nicolosi. The party then moved across to the Pav where students and staff were able to unwind from exam stresses over some food and a drink or two.

The School of Chemistry is extremely proud of the achievements of this year's graduating class and we are greatly looking forward to following their careers as they move on to new adventures.

Congratulations Class of 2019. Best of luck for the future and don't forget to keep in touch!


---

---

The School of Chemistry retains its Athena SWAN Bronze Award.


Representatives of the School of Chemistry's ASSAT
(L to R) front: Aidan McDonald, Eva-Maria Durr, Sylvia Draper, Maria-Daniela Angione, Peter Brien, back: Graeme Watson, Isabel Rozas, Mike Lyons, Noelle Scully
The School of Chemistry is delighted to receive news today that it has been granted a School Athena SWAN Bronze award. This follows-on from the implementation of a series of actions identified in 2015 to address what it perceived as insufficient female representation on decision-making committees; a lack of induction and mentoring support for young staff; low visibility of female academics in research, teaching, recruitment and online materials, and no gender disaggregated data collection.


Four years on and the School has changed irrevocably. Since its 2015 Bronze AS award, the School has seen many firsts: the first female Head of School, first female directors of Postgraduate and Undergraduate Teaching and Learning, and welcomed the School's first female Chair professor. Women have been as successful as men in applying for funding and promotion and their research outputs have gone from strength to strength. Such outputs are convincing demonstrations of how a School's commitment to AS can have a deep and lasting impact.


Professor Mike Lyons (Head of School) congratulated Prof. Draper and the School's Athena SWAN Self-Assessment Team on their success: 'There is work to be done, but thanks to you we now have a School with a better understanding of how it can create an environment in which everyone has an equal opportunity to excel'.


---


2019 Newly Elected Scholars - Trinity Monday Announcements

Congratulations to all of the students who were elected as Scholars on Trinity Monday and, in particular, the students who sat the Chemistry Scholarship examinations.

All details on this link: https://www.tcd.ie/Secretary/FellowsScholars/fellowship/

---

Success for NPCAM Students at Trinity employability awards

Congratulations to JS NPCAM students Eoin Caffrey and Dawn Kelly who were the overall Intel prize winners in the Trinity Employability Awards recently.

Dawn and Eoin beat a total of 50 undergraduate students who participated in the Award programme in partnership with Intel this year, which provides students with a combination of training and experience that increases their career readiness. It also allows them to gain an insight into the real world applications of their skills and knowledge in the engineering and technology sector. Well done to them both!

School of Chemistry Alumni to Student Networking Reception 2019

The School of Chemistry will be holding its annual Alumni to Student Networking reception with our Junior Sophister students. If you are a graduate from our Chemistry, Chemistry with Molecular Modelling, Medicinal Chemistry or Nanoscience- Physics and Chemistry of Advanced Materials with two years or more work experience, we would be delighted to have you back to the School for on March 12th 2019 from 6-9 pm.

The event will begin with refreshments and a welcoming reception, followed by an alumni panel discussion where each graduate will give an overview of their career path to date to current Junior Sophister students. The panel discussion will be followed by an informal networking session, enabling students to ask follow-up questions about entering the workforce. Alumni will be encouraged to provide any follow-up communication by email or via our new alumni mentoring platform, Trinity Alumni Online.

Alumni who are interested in this event can register by following the link below

https://ti.to/tcdAlumni/school-of-chemistry-alumni-to-student-networking-reception-2019

If you have any questions about the event, please email Dr Niamh McGoldrick, the School of Chemistry Global Officer at nmcgoldr@tcd.ie.


---

AMBER offers five CDT-PhD studentships funded by SFI-EPSR for
the next Academic Year 2019-2020.

The Advanced Materials and BioEngineering Centre (AMBER) is inviting applications for five (5) PhD studentships to start in September 2019. These studentships are part of the joint SFI-EPSRC funded Centre for Doctoral Training in Advanced characterisation for Materials (CDT ACM) programme. The CDT ACM programme is a collaboration between Trinity College Dublin, Imperial College London and University College London (UCL). Successful applicants will be registered at Trinity College Dublin but will be required to spend their first semester in London attending lectures, receiving expert training and completing coursework with their UK colleagues at Imperial and UCL. Further short visits are scheduled during years 2-4 of the program. Applicants must have been resident in an EU member state for 3 out of the last 5 years to be eligible for funding through this programme.


The ideal applicants will have a 1st Class or strong 2-1 Honours Bachelor's degree in Physics, Chemistry, Materials Science or related disciplines. The researcher will work closely with other members of a multidisciplinary project team. Excellent time-management, written- and oral-communication skills are essential.


To make informal enquires please contact Jesus Barco Montero BARCOMOJ@tcd.ie. The deadline for applications is 5pm on March 29th.


The AMBER research centre, as a community of researchers, welcomes its responsibility to provide equal opportunities for all. We are actively seeking diversity in our research teams and particularly encourage applications from under-represented groups.