Transition Year Programme 2023
Thank you for your interest in taking part in the School of Chemistry's 2023 TY Programme. Due to the pandemic situation and the far-reaching after-effects, we are sadly unable to offer this programme in the 2022/23 academic year. Information will be published on this page for 2023/24 as soon as it is available so check back periodically for updates
Any queries regarding past or future TY programmes should be directed to TYChemistry@tcd.ie
Transition Year Programme Report 2019
The School of Chemistry hosted its annual Transition Year Programme from Monday 4th to Friday 8th March, 2019. Now in its tenth year, the 60 places were highly sought after. The week kicked- off with a safety lecture and a general introduction to the three main disciplines within Chemistry (Inorganic, Organic and Physical). In an action-packed next 2 days, the students carried out experiments in our state-of-the-art undergraduate teaching labs. The experiments ranged from synthetic preparations to an analytical chemistry competition but all involved team work and the application of new practical skills.
Tours of the College's facilities, on the third day, showcased the modern TCD sports centre, and the world-class research laboratories and facilities in Trinity Biomedical Sciences Institute (TBSI) and CRANN. The students got a real insight and a tangible taste of what being a student in Trinity is like.
'The tours of Trinity furthered my interest in attending this university'.
Towards the end of the week the students were treated to a number of postgraduate presentations which depicted 'A Day in My Life as a Chemistry Researcher'. These provided a sense of how research is conducted and how it contributes solutions to global challenges e.g. in energy, health and the environment. Directly after the presentations the TY students got to experience hands-on experiments which were linked to the postgraduates research and included making fluorescence slime, looking at responsive glass-technology and trying out the Kastle-Meyer test for haemoglobin.
Finally the week was wrapped up by an excellent group-presentation feedback session, a group photo, a trip to the Book of Kells and an exciting SF Chemistry Broad Curriculum finale.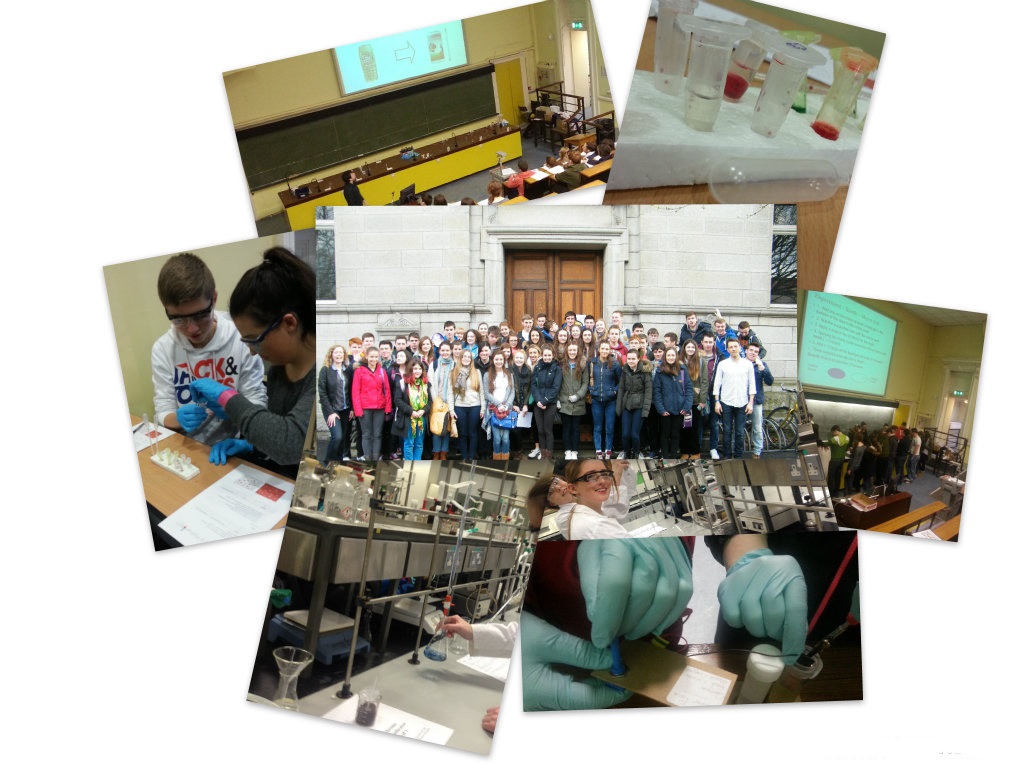 TY Group photo. Surrounding photos: TY students working in the lab and doing hands-on experiments.
Some of the comments from attendees…………
'I liked learning new things about chemistry (and also it was good to hear about what science in college is like).'
'Everything was perfect, the amount of people, the different times, the quiz we did as we got to mingle with other people and the power point as what we learned stuck in our heads! Overall I had an absolute fabulous time I'll definitely get my sister to do it next year thank you very much!'
…………….and from parents and teachers.
'My daughter thoroughly enjoyed all aspects of the programme and it has given her a real incentive to work hard in the Senior Cycle in order to get to university. There have been times this year with TY that I have wondered was it worth it but I guess it is these experiences that make it worthwhile for the students.'