News and events
2008
---
Enterprise Ireland Industrial Technologies Commercialisation Award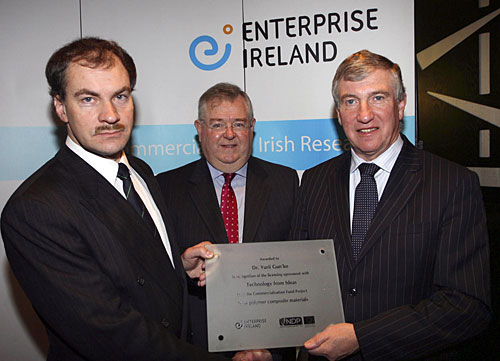 Prof. Yurii Gun'ko (left) Dr. Jimmy Devins TD
The Industrial Technologies Annual Conference took place on Thursday 27th of November. Dr Jimmy Devins TD, Minister for Science and Technology presented Professor Yurii Gun'ko with a Industrial Technologies Commercialisation Award for his work on development, commercialisation and licensing on new technology on polymer nanocomposite materials.
---
South American Adventurers- Inorganic, Analytical and Physical Chemistry Department, UBA PhD

Prof. Mike Lyons presented a series of postgraduate lectures entitled 'Nanobioelectronics for the 21st century' during the month of August in Latin America as part of an EU-funded ALFA Project entitled Materials Engineering for the Design of Intelligent Sensors (MEDIS) (Alfa II-0547-FCD) of which Dr Lyons is Academic Co-ordinator. The lectures were conducted in the Ribeirao Preto Campus of the University of Sao Paulo, Brazil and in the Inorganic, Analytical and Physical Chemistry Department, University of Buenos Aires, Argentina. The week long lecture series were attended by over 30 Ph.D students in each site from various Universities and Institutes in Brazil and Argentina. The lecture course emphasised the use of chemical and biological sensors in analytical chemistry. Lectures were also given by Dr Luc Nagels (University of Antwerp), Dr Thierry Livache (University J Fourier & CEA, Grenoble), Dr Greg Demets (University Sao Paulo), and Drs Delia Bernik, Martin Negri and Fernando Battaglini, University Buenos Aires.
---

2008 September 11th: Launch of the Dublin Chemistry programme
The Government Chief Scientific Adviser, Prof. Patrick Cunningham will formally launch the Dublin Chemistry Graduate Programme on Thursday the 11th of September at 6.00 p.m. in the Edmund Burke Lecture Theatre, Arts Building Trinity College. Dr. Paul Duffy, Vice President of Pfizer Ireland will give the keynote address at the launch entitled: "Chemistry Graduates and the Pharmaceutical Industry in Ireland"
For invitations please write to Maria Copley at: copleym@tdc.ie
---
Brendan McGuirk receives a
2008 Trinity Annual Fund Student Award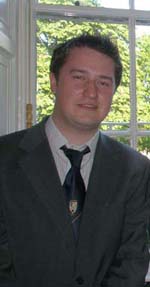 Congratulations to Brendan McGuirk (SS Medicinal Chemistry) who was awarded a Trinity Annual Fund Student Award at a ceremony in the Provost's house on 13 May. The purpose of the awards is to recognise students who have made an outstanding contribution to Trinity life in the past year contributing through working with Sports Clubs, Societies or some other aspect of College life. The Trinity Annual Fund is supported by Trinity graduates who contribute financially to Trinity College for the purpose of supporting grassroots projects and initiatives that enhance the Trinity experience. Brendan McGuirk has worked hard in all of his activities to encourage students to make College life richer for themselves and those around them. Among Brendan's achievements, is developing Trinity FM station into a professional and tightly run operation producing a high standard of programme. Brendan also conceived the idea of the student magazine Analogue, covering independent music of all genres. The quality of the magazine has recently been recognised in the recent National Student Media Awards where it won the People's Choice Award and was nominated for the categories of Best Magazine, Best Layout & Design, and Best Website. Brendan also held the position of Secretary of CSC this year liaising with and advising students who wish to establish new societies.
---
7th edition of Premio R.O.S.A (Rome, Italy)
1st Prize Awarded to Dr. Silvia Giordani

Photo by: Estella Marcheggiano
Dr. Silvia Giordani was among the 5 finalist of the 7th edition of Premio R.O.S.A. (da donne a donne di successo con Risultati Ottenuti Senza Aiuti - From Women to Women who had success with Results Obtained Without Help), promoted by the Canova Club of Roma to recognize women professional activities in field which have yet a male predominance: economics (new economy included), finance, management, entrepreneurship, science. She was awarded the first price of the jury on the 22nd of May 20008 in Rome (Tempio di Adriano).
---
Award for best poster at the 60th Irish Universities
Chemistry Research Colloquium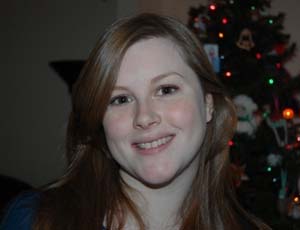 Doireann Moore, a third year postgraduate student in the School of Chemistry has been awarded the prize for best poster presentation at the 60th Irish Universities Chemistry Research Colloquium, which was held in UCC. The Colloquium provides an excellent forum for young researchers to present their work, highlighting the research occurring in third level institutions in Ireland in the chemical sciences.
---
Professor Sylvia Draper receives a Provosts Teaching Award

Congratulations to Professor Sylvia Draper who was awarded a Provosts Teaching Award at a ceremony in the Provost's House on 26 May. There were 23 overall nominations by staff and students of Trinity for this year's awards which are presented to academic staff members who have made an outstanding contribution in the pursuit of teaching excellence in College and promote teaching as a scholarly activity. The scheme is sponsored by the Higher Education Authority and funded under the National Development Plan 2000-2006
---
9th Annual Symposium on Supramolecular Chemistry In Ireland
13th March 2008 n Hosted by Trinity College Dublin (TCD)
Molecules, excited states, DNA, nanotubes and molecular machines featured at the 9th annual Symposium on Supramolecular Chemistry in Ireland in the School of Chemistry, Trinity College Dublin on the 13th of March 2008.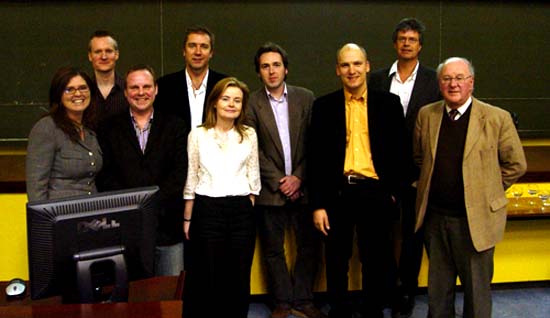 Organizers and speakers from left to right: Dr Silvia Giordani, Dr Simon Pope, Professor Thorri Gunnlaugsson, Professor Christopher Hunter, Dr Susan Quinn, Dr Nathan McClenaghan, Dr Jonathan Nitschke, Professor Christer Aakeröy and Professor Michael McGlinchey.
Over 120 delegates from UCD, TCD, DCU, UCC, Tyndall, QUB, ITT and Chalmers University of Technology, Sweden attended the one-day meeting hosted by Professor Thorri Gunnlaugsson and Dr. Silvia Giordani. The programme featured seven eminent speakers from Ireland, UK, France and USA describing their latest research in the fascinating field of supramolecular chemistry. In addition to the lecture programme, postgraduates and postdoctoral scientists presented 20 posters.
The event was sponsored by the Royal Society of Chemistry and the Centre for Synthesis & Chemical Biology.
Opening the symposium, Professor Thorri Gunnlaugsson, remarked: "this annual event has become one of the largest symposium on chemistry held in Ireland and continuous to inspire and attract new researchers to the field".
Beginning the morning session was Dr. Jonathan Nitschke, University of Cambridge, with a lecture entitled "Complex structures and systems from simple subcomponents", followed by Dr. Nathan McClenaghan, CNRS/University of Bordeaux with a presentation on "Supramolecular engineering of excited states properties".
Prof. Christer Aakeroy, Kansas State University, delivered his plenary lecture on "Molecular bricks and supramolecular tricks: Strategies for modular non-covalent synthesis".
After lunch Dr. Susan Quinn, Trinity College Dublin, presented "DNA: The original supermolecule from drug potential to nanotubes" and Prof. Michael McGlinchey, University College Dublin, gave his talk entitled "From molecular machines to tetracenes….. and back again! An accidental voyage".
Following the afternoon's poster session, Dr. Simon Pope, University of Cardiff, gave his presentation on "Responsive metal based luminescent molecules" and Prof. Christopher Hunter gave his plenary lecture on "Solvent effects on molecular recognition".
---
Award for best Poster on Vibrational Spectroscopy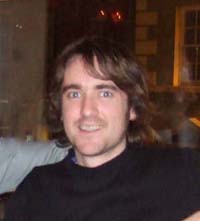 Gerard Doorley, a 4th-year postgraduate student in the School of Chemistry, has been awarded the prize for the best poster at a recent one-day symposium on Vibrational Spectroscopy held at DCU that was organised by the Infrared and Raman Discussion Group. This was the first of this series of meetings to be held in Dublin and was addressed by a number of prestigious speakers.
---
Dr. Aaron Walsh receiving his award from Prof. John Corish,
Secretary for International Relations of the RIA
and Professor of Physical Chemistry at TCD.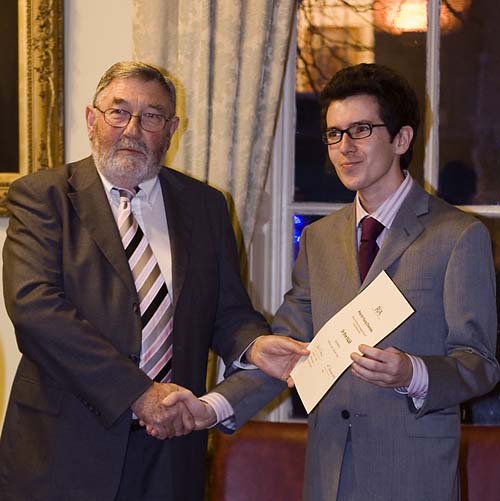 ---
International Union for Pure and Applied Chemistry (IUPAC) 2008 - 2011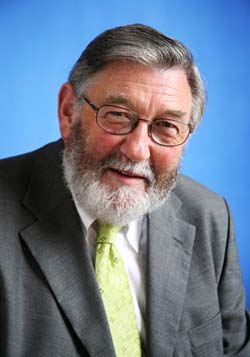 Professor John Corish, Professor of Physical Chemistry, F.I.C.I, M.R.I.A., F.T.C.D., has just been elected as Treasurer of the International Union for Pure and Applied Chemistry (IUPAC) at the General Assembly in Turin, Italy.