B.Sc. 2010
Università degli Studi di Bologna - Italy

M.Sc. 2013
Università degli Studi di Bologna - Italy
Research fellowship 2008
University of Basque Country, San Sebastian - Spain
phone: +353-1-896 (4229)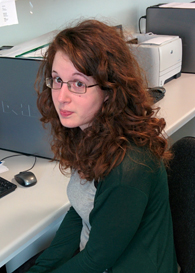 Chiara's research is focused on the design of a chiral organocatalyst capable of being recovered and recycled without incurring a measurable loss in activity and enantioselectivity.
---
'Enantioselective β-vinylation of α,β-unsaturated aldehydes using a β-nitroethyl sulfone as vinyl anion equivalent'
C. Gianelli, R. Lopez, Á. Puente, M. Zalacain and C. Palomo*, Org. Chem. Eur. J. 2012, 14, 2774.
'Cinchona alkaloid-catalyzed enantioselective direct aldol reaction of N-Boc-oxindoles with polymeric ethyl glyoxylate'
F. Pesciaioli, P. Righi, A. Mazzanti, C. Gianelli, M. Mancinelli, G. Bartoli and G. Bencivenni*, Adv. Synth. Catal. 2011, 353, 2953.
'Aminocatalytic enantioselective anti-Mannich reaction of aldehydes with in situ generated N-Cbz and N-Boc imines'
C. Gianelli, L. Sambri, A. Carlone, G. Bartoli and P. Melchiorre*, Angew. Chem. Int. Ed. 2008, 47, 8700.