M.Sc. 2012
Università degli Studi di Chieti - Italy
Research Exchange Program 2010
Nazareth College - Rochester, NY
Life Learning Program 2013
University of Portsmouth - UK
phone: +353-1-896 (4229)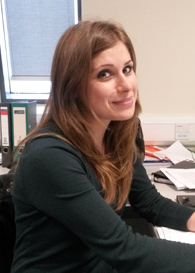 Astrid's research interests focus on organocatalytic asymmetric reactions involving enolisable cyclic anhydrides.
---
'The first catalytic asymmetric cycloadditions of imines with an enolisable anhydride'
S. A. Cronin, A. Gutiérrez Collar, S. Gundala, C. Cornaggia, E. Torrente, F. Manoni, A. Botte, B. Twamley and S. J. Connon* Org. Biomol. Chem. 2016, 14, 6955.