News and events
2014
---
Prof. Rachel Evans awarded The Irish Laboratory Awards
"Young Leader of the Year"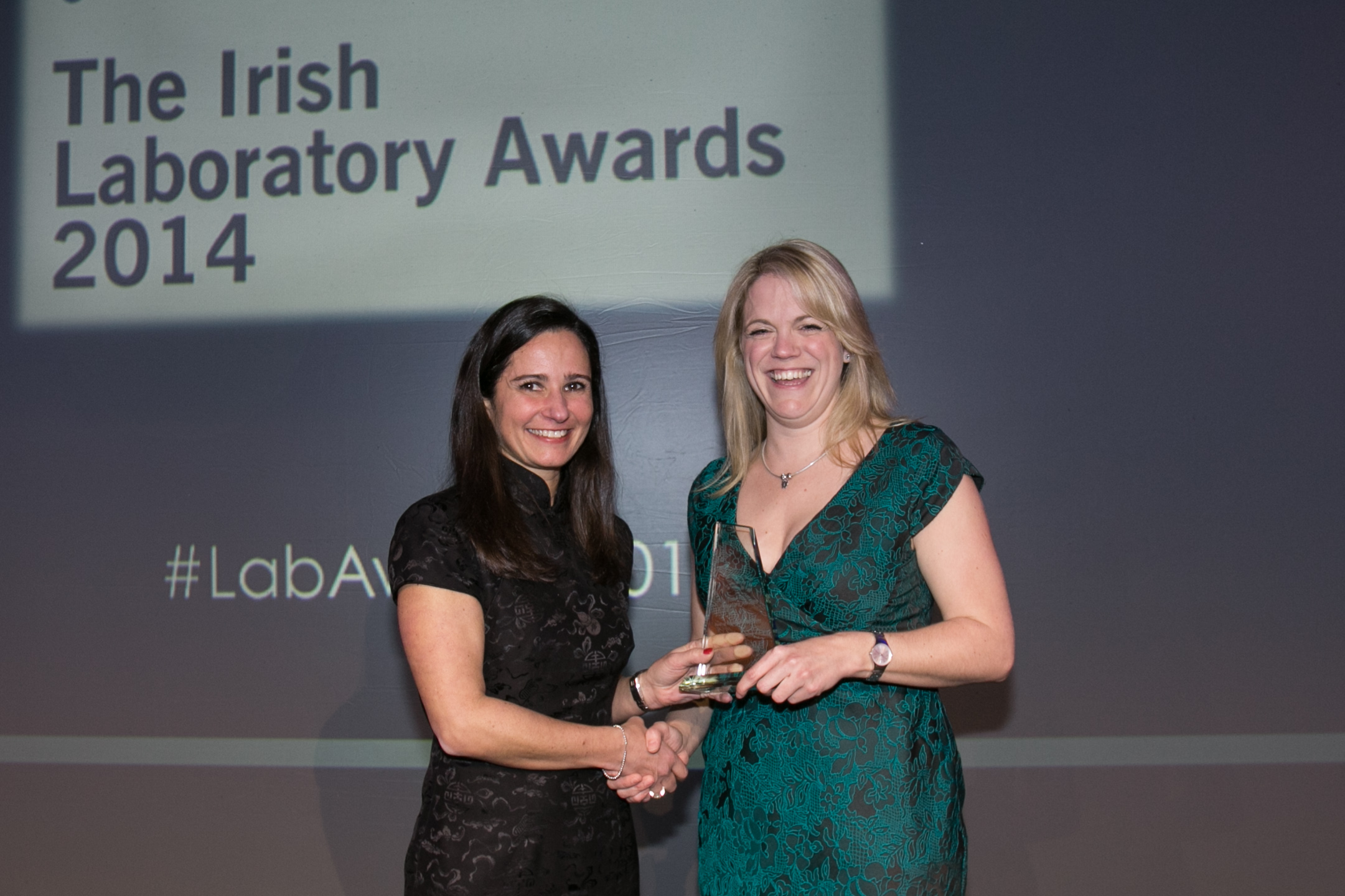 Photo left to right: Annalisa Montesanti, Programme Manager, Health Research Board and Prof. Rachel Evans

Dr. Rachel Evans, Associate Investigator at CRANN, Ireland's flagship nanoscience institute, Trinity College and Assistant Professor, School of Chemistry, Trinity College, Dublin, has been awarded The Irish Laboratory Awards' 'Young Leader of the Year'. The award recognises Dr. Evans as a young lab leader who has the potential to make a significant contribution to science. The award was presented at a ceremony hosted in Dublin, where the best of Ireland's laboratory industry were recognised.

Dr. Evans established the Materials & Device Photochemistry Group in 2011 and her drive and passion for innovative science and fostering the next generation of scientists has seen this grow to a team of ten in just three years. This growth is a direct result of successful research funding applications by Dr. Evans to Science Foundation Ireland, Enterprise Ireland and the Irish Research Council, which has led directly to the creation of these new research positions. Dr. Evans has raised €700,000 in research funding during her independent research career.

Commenting on receipt of her prize, Dr. Evans said, "I am honoured to receive the Irish Laboratory Awards' 'Young Leader of the Year'. The aim of our group is to conduct world-class scientific research and academic training in the field of photoactive materials for light emitting displays, sensors and energy applications."

Dr. Evans' current research focus looks to design and develop new materials known as luminescent solar concentrators (LSCs) which may provide a route to more efficient solar cells at reduced cost. The advantage of LSCs is that they work even under diffuse sunlight conditions and as such are excellent candidates for the development of building-integrated solar cells that function efficiently in the cloudy Irish urban environment.

Dr. Evans concluded: "Materials chemistry is not always the most easily understood of topics and this award will help draw attention to our achievements in this competitive field. I must thank all my colleagues in CRANN and the School of Chemistry for their continued commitment to research innovations and I look forward to realising a number of our projects over the coming year."
---
Prof. Stephen Connon wins a "Teaching Hero" award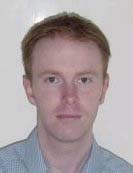 Congratulations to Professor Stephen Connon who was announced as one of the winners of the 2014 'Teaching Hero' awards in Irish Higher Education. The Teaching Hero Awards Ceremony was held at Dublin Castle on September 30th.
---
School of Chemistry and RSC ChemNet and Chemistry Careers event –November 2014
On Tuesday 11th November, the final day of Science Week in Ireland, over 300 secondary school students from the Dublin region attended a Royal Society of Chemistry (RSC) ChemNet "Chemistry Careers" event, hosted by the School of Chemistry in the Trinity Biomedical Sciences institute. The event was organised by Dr Rachel Evans (Chemistry) in conjunction with Dr Stephanie Nelson and Dr Angela McKeown from the RSC.  Representatives from a variety of local companies delivered a series of short talks aimed at highlighting the variety of career paths available with a degree in Chemistry. Current undergraduate and postgraduate students also described university life and the 9-5 of PhD studies. Later in the day a "Careers, Chemistry and Coffee" networking event was held for the postgraduate students in conjunction with the Werner Student ChemSoc.  The event was supported by the RSC Education Networks, the Republic of Ireland Local Section and the Student Chemical Society Network.

Employers represented throughout the day included the Royal Society of Chemistry, Henkel, Hewlett-Packard, Sigmoid Pharma and FR Kelly patent attorneys. Notably, many of our speakers were alumni of the School of Chemistry, including Dr Ruairi O'Kane (Henkel), Dr Deirdre Ledwith (Henkel), Dr Aine Whelan (Forensic Science Laboratory), John McManus (Intel), Kalle Korpela (Forest) and Dr Gemma-Louise Davies (University of Warwick), demonstrating the diverse and successful careers that our graduates go on to. Many thanks to all of our speakers, who included Aaron McKeown (1st year PhD), Michelle Browne (3rd year PhD) and Ian Godwin (4th year PhD), and to Ilaria Meazzini, Barry McKenna, Judith Houston and the Werner Society for helping to organise things on the day.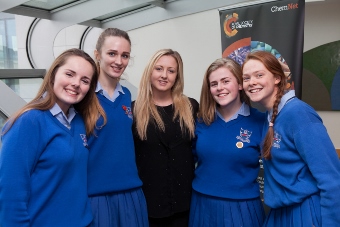 Michelle Browne (3rd year PhD) with 5th year students from Mount Sackville Secondary School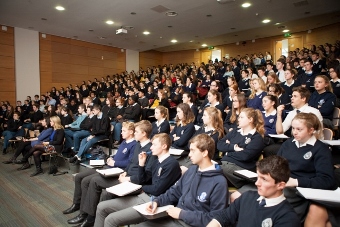 Full house in the Tercentenary Hall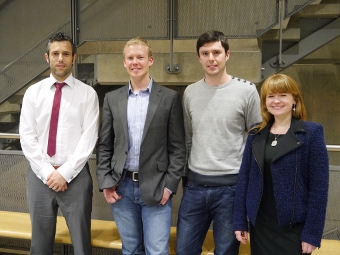 Chemistry alumni at our "Careers, Chemistry and Coffee" networking event: From left: Dr Ruairi O'Kane, Kalle Korpela, John McManus, Gemma-Louise Davies
---
New TCD-Chile Raw Materials Project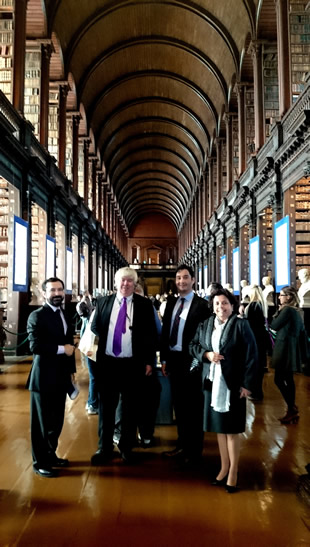 From left to right: Ms Aurora Williams, Head of Mining.
Mr Adolfo Galindo, Head of Cabinet. Professor Mike Lyons.
Mr. Rodrigo Galindo, Head of Cabinet
On Friday 24th of October, the Chilean Minister of Mining, Ms Aurora Williams visited Trinity College Dublin. The purpose of this visit was to meet on site with Chilean university students and learn about the progress of various projects that could be undertaken in collaboration between the Ministry of Mines and the University. Ms. Aurora Williams was presented with 6 projects that TCD has developed and initiated with Chile in the area of raw materials in the last 2 years. In particular, the Minister expressed that some projects could be developed in conjunction with Cochilco and Enami (Chilean Copper Commission and Chilean Mining Corporation, respectively). The projects presented have been the result of a 4-year interaction with Chilean institutions. Dr Damaris Fernandez, Chilean Research Fellow working at Chemistry and CRANN/AMBER developed the initial concepts together with the Chilean teams. The projects presented will be led by Professor Michael Lyons (Chemistry/CRANN), Professor Paul Coughlan (Business), Professor Eileen Drew (Wiser initiative) and Professor Sylvia Draper (Chemistry, CRANN) and will aim to include new technologies and perspectives into the Mining activities of the Chilean country, promoting further collaboration with industry and academics in this country. Chile, with a population corresponding to the 0.5% of the world, and a surface equivalent to the 0.4% is by far the leader global Copper producer, providing 30% of the world consumption. Chile is also leader producer of other raw materials such as Lithium and Molybdenum. There was agreement to strengthen the relationship between the institutions, for which the signature of a Memorandum of Understanding has been envisaged in the near future, to promote collaborative Education, Research and Innovation activities. Thanks, Dr. D. Fernández / Prof. MEG Lyons
---
Judith Houston wins Poster Prize at 2014 ISIS Meeting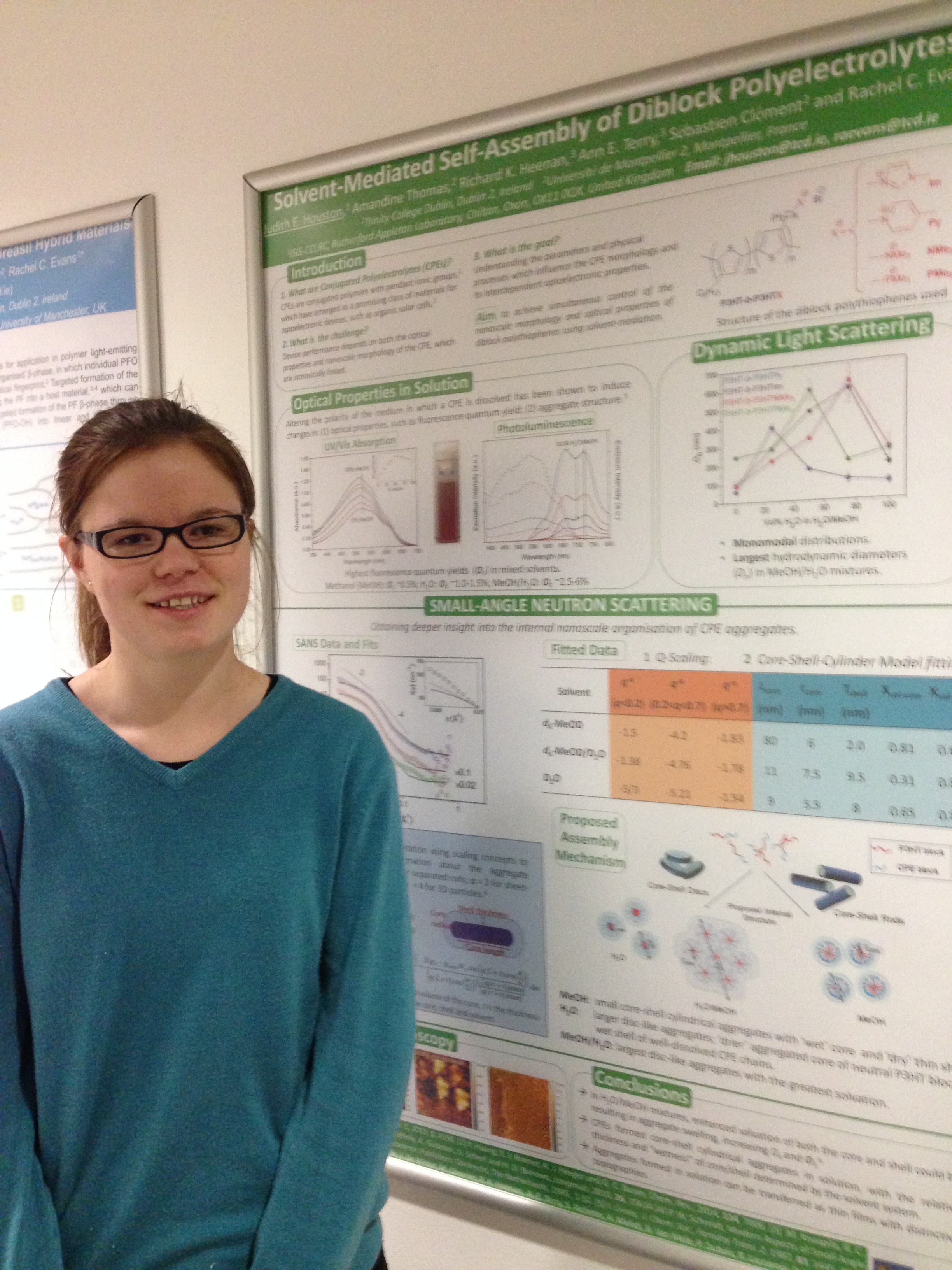 Photo: Judith Houston

Ms Judith Houston, a third year PhD student with the Evans group, was awarded first prize for her flash presentation/poster at the 2014 Student Meeting on 23rd/24th October at the ISIS neutron facility located at the Rutherford Appleton laboratory, U.K. Judith presented her work entitled "SANS and the Solvent-Mediated Self-Assembly of Diblock Polyelectrolytes" which demonstrates how small-angle neutron scattering (SANS) can be used to monitor the self-assembly of conjugated polyelectrolytes in solution, paving the way to obtaining thin films with tuneable morphology for organic electronic devices with improved performance. This work was published earlier in the year in Polymer Chemistry.
---
Prof. Stephen Connon wins a "Teaching Hero" award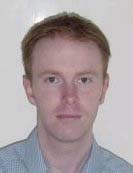 Congratulations to Professor Stephen Connon who was announced as one of the winners of the 2014 'Teaching Hero' awards in Irish Higher Education. The Teaching Hero Awards Ceremony was held at Dublin Castle on September 30th.
---
Chemistry Post Graduates through to Thesis-in-3 National Final
Congratulations to Aoife Kehoe and Christian Wirtz, both 4th year postgraduate students in the School of Chemistry, who were awarded 1st and 2nd place, respectively, in Trinity's Thesis-in-3 regional heat. This event, which took place on the 26th September in the Science Gallery as part of Dublin's "Discover Research" night, saw twelve Ph.D. students explain their research to a general audience using only three slides in three minutes. Both Aoife and Christian, along with 3rd place Dinorath Olvera of TCBE, now progress to the national Thesis-in-3 final, which will be held on October 20th.
Details of the competition can be found at: thesisin3.wordpress.com/about/
---
Michelle Browne TEECE Group wins Poster Award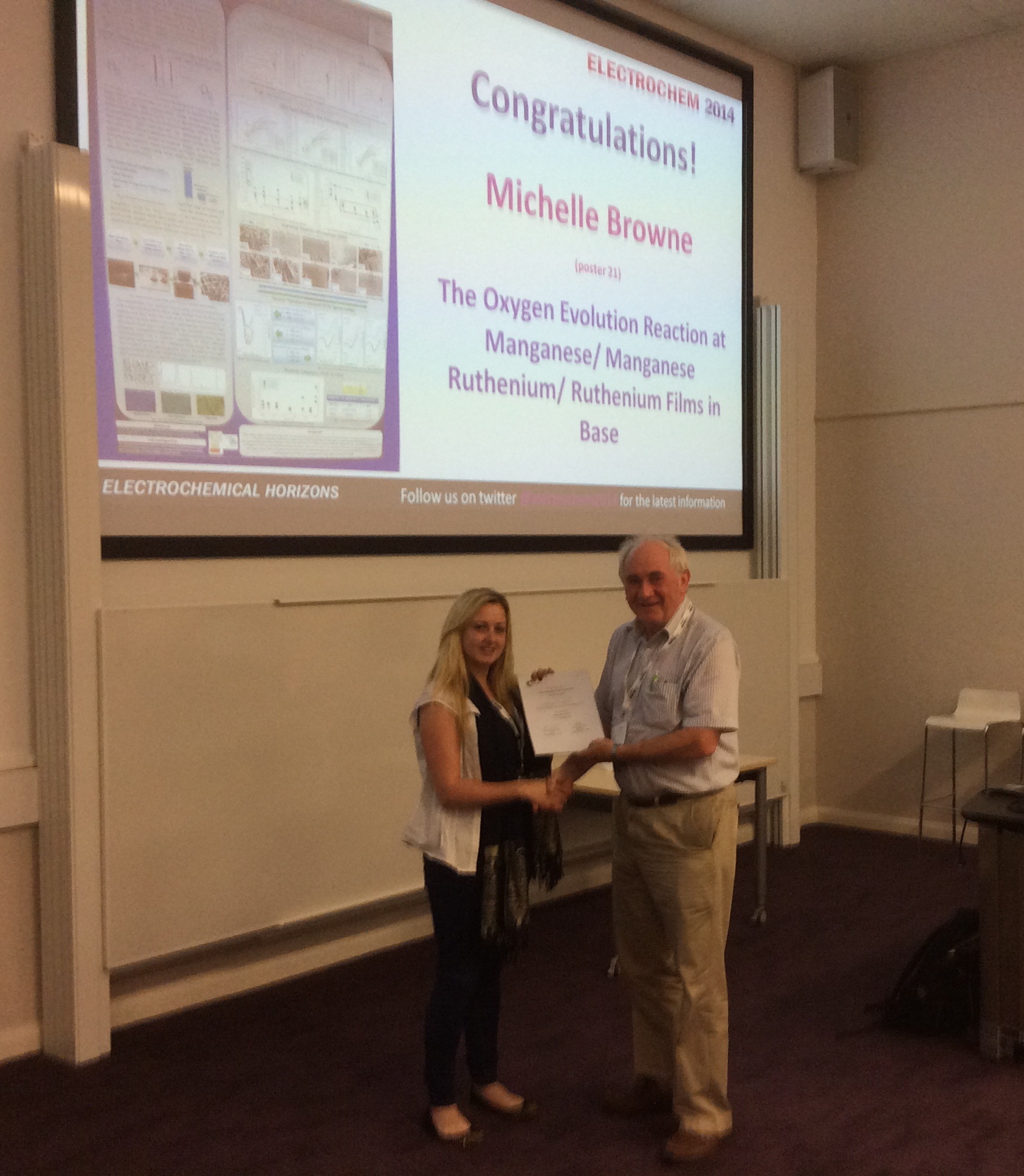 Photo: Michelle Browne with Professor John Owen, University of Southampton.

Ms. Michelle Browne, a 3rd year PhD research student within the Lyons TEECE Group, School of Chemistry & CRANN, was awarded the RSC/ECG Darryl Dawson Poster Prize at ELECTROCHEM 2014 which was held this year at the University of Loughborough. This is the top poster prize associated with the ELECTROCHEM Conference. Michelle presented work, sponsored by SFI, on electrochemical water splitting studies at manganese/ruthenium mixed oxide electrodes which have the lowest reported oxygen evolution over potentials reported to date. This exciting and significant work paves the way for a new generation of energy efficient water electrolysis systems which will enable sustainable electrochemical hydrogen generation for use as a fuel in green cars powered by hydrogen fuel cells.
---
Paula Colavita Receives SFI 2013 Career Development Award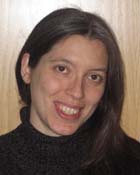 Congratulations to Prof. Paula Colavita for being a recipient of a SFI 2013 Career Development Award, as announced 8th July, 2014 at Original press release from SFI.


---
Chemistry Postgraduate Wins Poster Award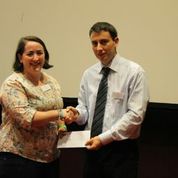 Congratulations to Niamh Fox who won one of the four Best Poster Awards at the 66th Irish Universities Chemistry Research Colloquium held in NUI Galway in June 2014.


---
TCD School of Chemistry Speakers:
| | | |
| --- | --- | --- |
| Lorcan Brennan | Michelle Browne | Yue Lu |
| "New materials for solar cell applications" | "Towards a hydrogen economy: the investigation into the oxygen evolution reaction (OER) using transition metals" | "Tapping into the triplet state - New applications and possibilities with 1,10-phenanthroline based Ir(III) and Ru(II) complexes" |
| | | |
TCD School of Chemistry Poster Presentations:

Niamh Fox (Prize Winner); Ian Godwin; Colm Healy; Bryan Irwin; Eoin McCarney.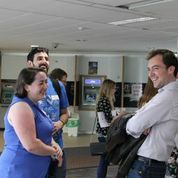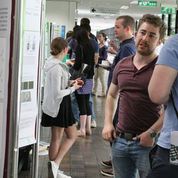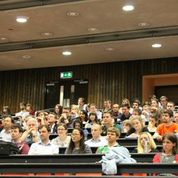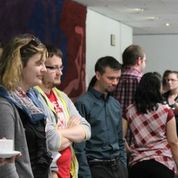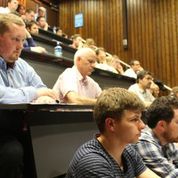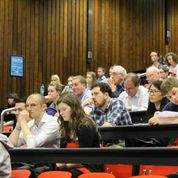 ---
Chemistry Postgraduates Receive Postgraduate Teaching Awards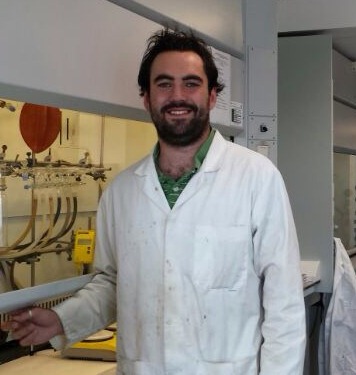 Congratulations to Shane Plunkett (pictured) on winning this Year's Postgraduate Teaching Award and Aoife Kehoe who was shortlisted. Presentations were made to both winners and those shortlisted at an Award Ceremony that took place on June, 10th in the Long Room Hub.




---
Students Enjoy Salters' Festival of Chemistry at Trinity

Approximately 80 students from 20 schools across the province of Leinster recently enjoyed an exciting day of scientific exploration at the Salters' Festival of Chemistry, which was held by the School of Chemistry. Each school was represented by a team of four 11-13 year olds, who took part in a variety of chemistry practicals, experiments and challenges. During the morning the teams competed in a hands-on, practical activity called 'The Salters' Challenge - The Blot Strokes Again!' in which they used their analytical chemistry skills. In the afternoon, they engaged in the 'University Challenge', a practical activity in which they were charged with the task of preparing a chemical recipe for making seven different colours. The day was rounded off with a 'Flashes and Bangs' lecture, which involved several demonstrations and required active participation from the students.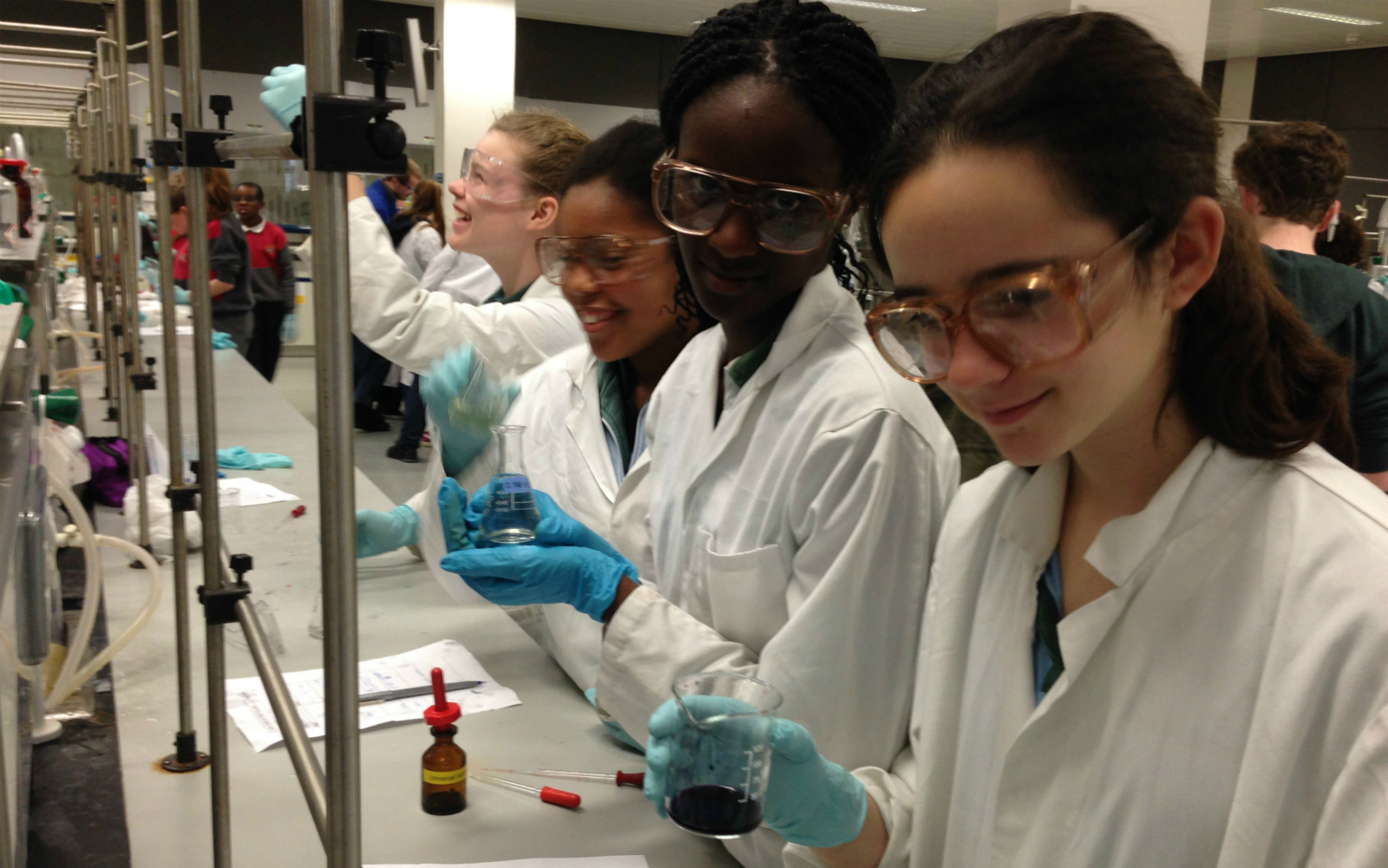 ---
ISCP Ireland-China Symposium on Nanotechnology

The Trinity Biomedical Sciences Institute hosted the successful ISCP Ireland-China Symposium on Nanotechnology this May, with the School of Chemistry's Prof. Thorri Gunnlaugsson chairing the organising committee of the event. More than 90 participants attended this symposium in Trinity's Tercentenary Hall to listen to an exciting programme of speakers from a number of Irish Universities, as well as invited guests from Beijing, Shanghai, Hong Kong, Xi'an and Dalian in China. Plenary Lectures were delivered by Prof. Werner Blau (TCD, CRANN) and Prof. Vivian Wing-Wah Yam. The symposium encouraged collaborative research in nanoscience between the two countries.

Pictured below are all of the invited guests, members of the School of Chemistry and the School of Physics, Prof. Clive Williams (Dean of FEMS), Prof. Vinny Cahill (Dean of Research) and Prof. Jane Ohlmeyer (former VP of Global Relations).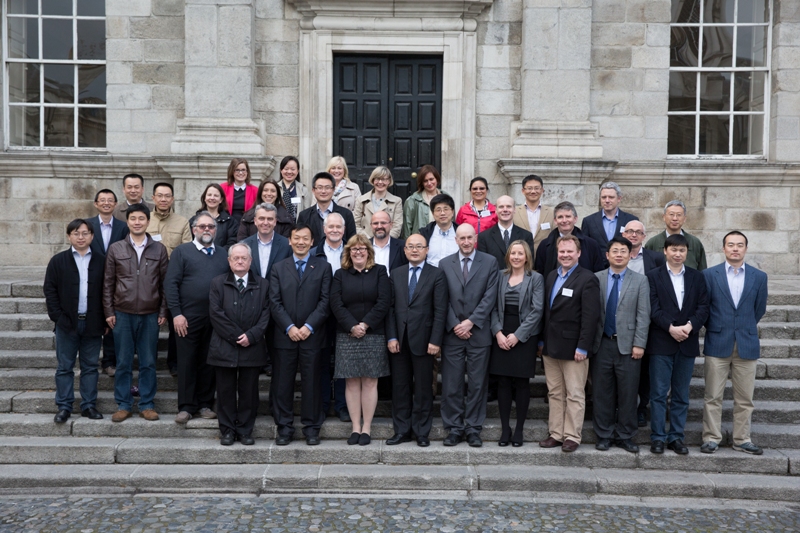 ---
Barry-McCabe Prize 2013/14

Congratulations to Ilaria Meazzini who was awarded the Barry-McCabe prize for excellence in demonstrating in Junior Freshman synthetic chemistry. Also to Robert Conway-Kenny and Bryan Irwin who were joint runners-up.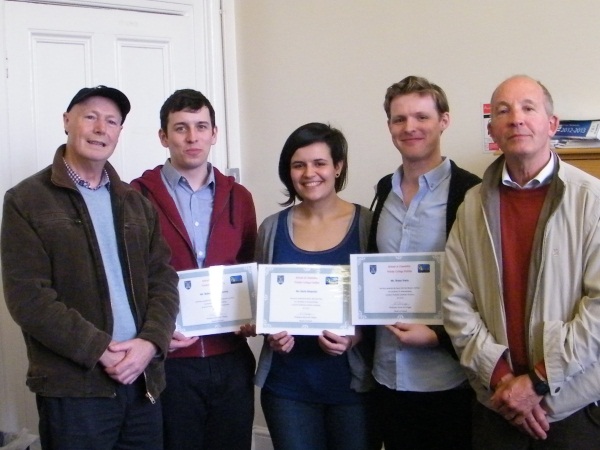 From left to right: Dr Tom McCabe, Robert Conway-Kenny (runner-up), Ilaria Meazzini (winner), Bryan Irwin (runner-up) and Brendan Barry
The above prize has been established in the School of Chemistry to mark the long-standing contributions made to undergraduate teaching and postgraduate research by Mr. Brendan Barry (Chief Technical Officer) and Dr. Tom McCabe (Experimental Officer). The prize is awarded to an outstanding postgraduate demonstrator(s) of JF Chemistry module (CH1102) which spans synthetic aspects of inorganic and organic chemistry. The winner was selected at the end of the semester by a committee comprising representatives of the Cocker technical staff and academic staff in charge of the relevant JF laboratory sessions and input gathered via feedback from the JF undergraduate cohort.
---
2014 Newly Elected Fellows and Scholars

FELLOWS: Congratulations to Paula and Georg on their election as Fellows to the College on Trinity Monday.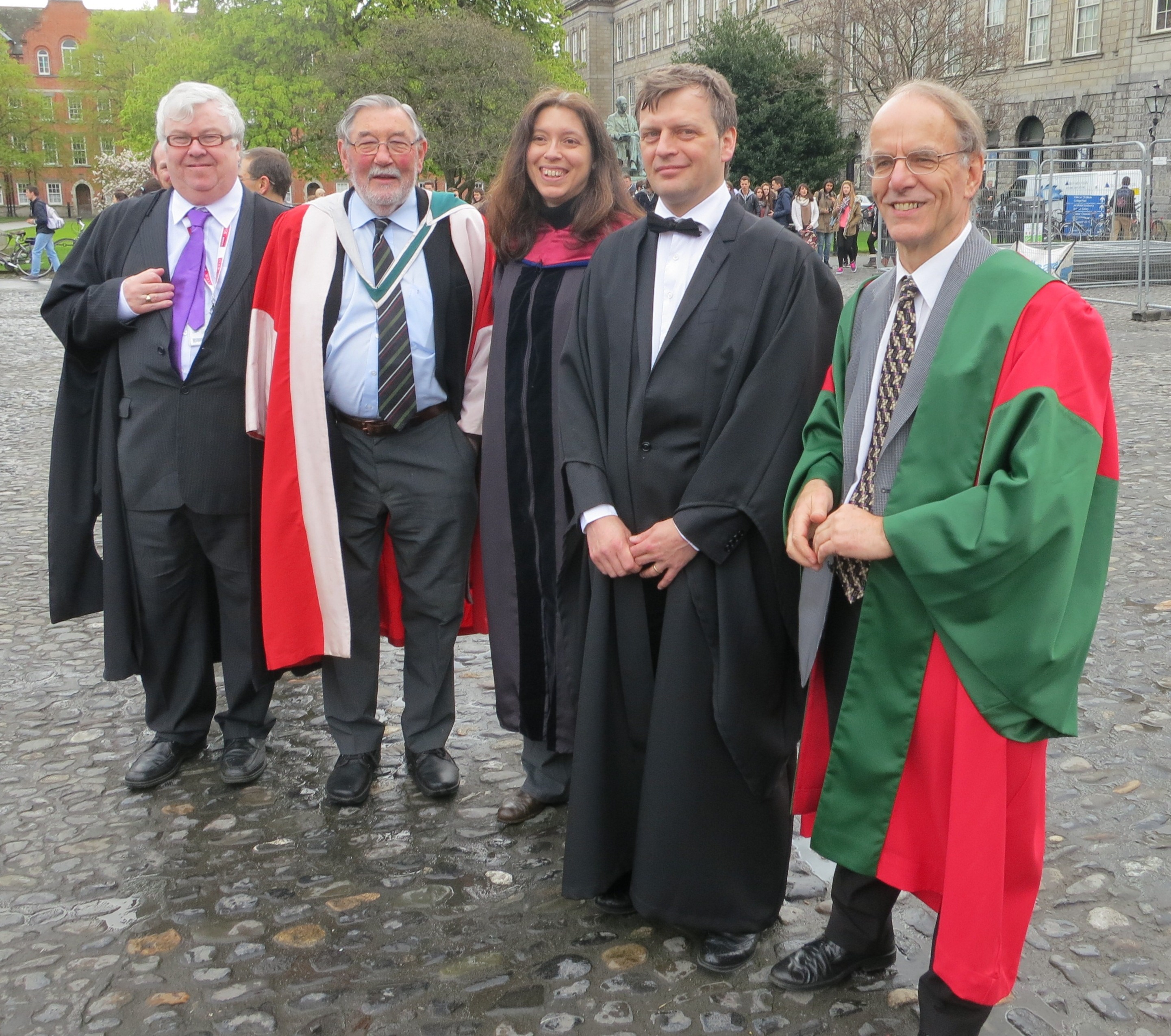 From left to right: Profs Michael Lyons, Sean Corish, Paula Colavita, Georg Duesberg, John Kelly
SCHOLARS: Congratulations to all the students who were elected as Scholars of the College on Trinity Monday and in particular to the students who sat the Chemistry Scholar examinations.

Science:
Eva-Maria Dürr
Elaine Kelly
Shelley Stafford

Nanoscience, Physics and chemistry of Advanced Materials:
Andrew David Harry Selkirk
Brian Traynor

Medicinal Chemistry:
Deirdre McAdams


---
Prof. Valeria Nicolosi receives PIYRA award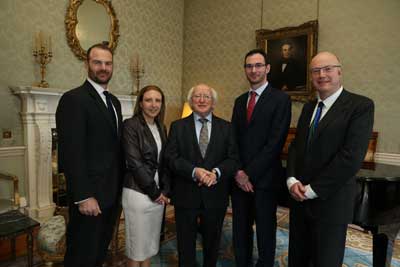 From left to right: Prof. Carel le Roux (University College Dublin), Prof. Valeria Nicolosi, President Higgins,
Dr. Matthew Campbell (Smurfit Institute) and Prof. Mark Ferguson (Director General of SFI &
Chief Scientific Adviser to the Government of Ireland)
Congratulations to Professor Valeria Nicolosi (Schools of Chemistry & Physics, and CRANN PI), one of three SFI President of Ireland Young Researcher Award (PIYRA) recipients who met with President Michael D. Higgins at Áras an Uachtaráin on 27 March 2014. Original press release from SFI.


---
Dorgan Postgraduate Prize Winner 2013/2014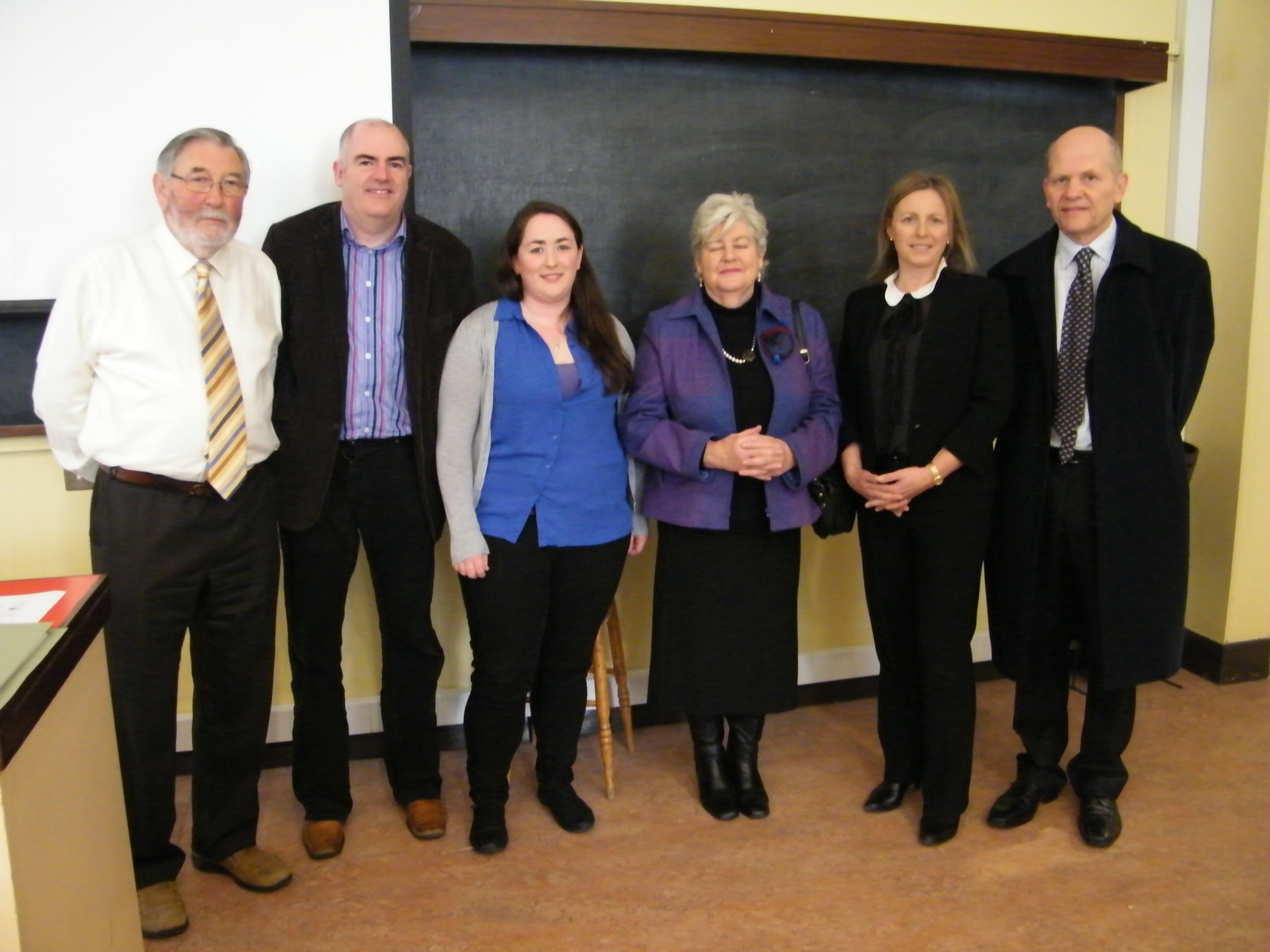 From left to right: Seán Corish, Alan Dorgan, Niamh Willis-Fox, Marie Dorgan, Yvonne Traynor and Patrick Hobbs
The Dorgan Prize was established in 2011 by the family of Brian Dorgan, a former postgraduate student in the School of Chemistry. It is awarded each year to the postgraduate student registered in the School, who in the opinion of a panel of judges best presents their research, and its potential impact on science and society.

This year's prize was awarded to Niamh Willis-Fox for her talk entitled "Tuning the Emission of Conjugated Polyelectrolytes in Organic-Inorganic Di-ureasils: A Solid-State Solution". The occasion was very special, marking in a very personal and memorable way the contribution of our Postgraduate community to the research life of the School.
Congratulations to Niamh and to the other two finalists:

Colm Delaney: "Growing Pains; New Nanoribbon Feedstocks"
Judith Houston: "Solvent-Mediated Self-Assembly of Diblock Polyelectrolytes: Towards the Design of Efficient Organic Photovoltaic Devices"
Sincere thanks to the Dorgan Family and our panel of judges:

• Yvonne Traynor (Head of Global Quality, Henkel) • Patrick Hobbs (President, Institute of Chemistry of Ireland) • Prof. Seán Corish (School of Chemistry, TCD).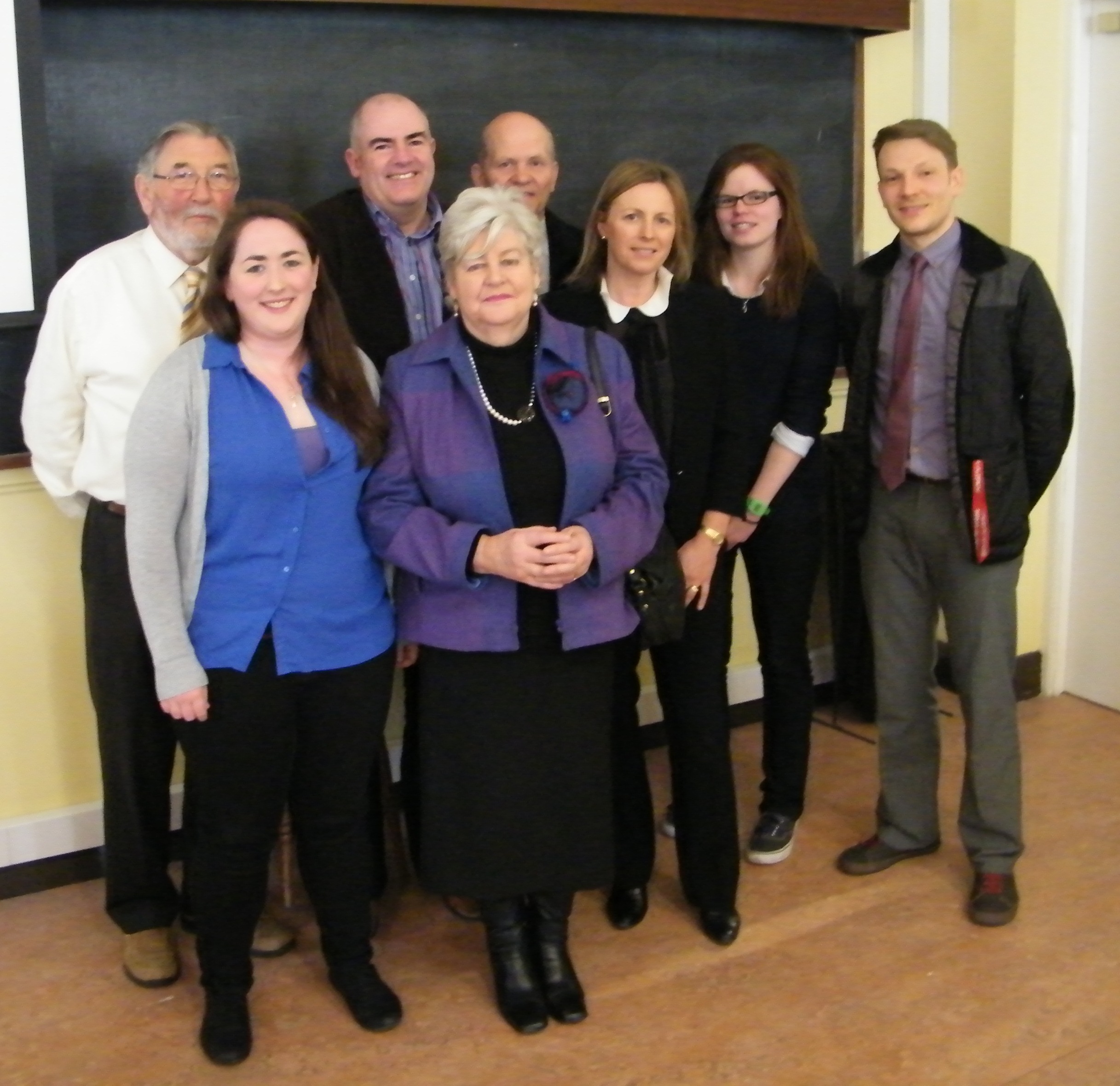 From left to right: Seán Corish, Niamh Willis-Fox, Alan Dorgan, Marie Dorgan, Patrick Hobbs, Yvonne Traynor, Judith Houston and Colm Delaney
---
Winning BC Team made Human Bicycle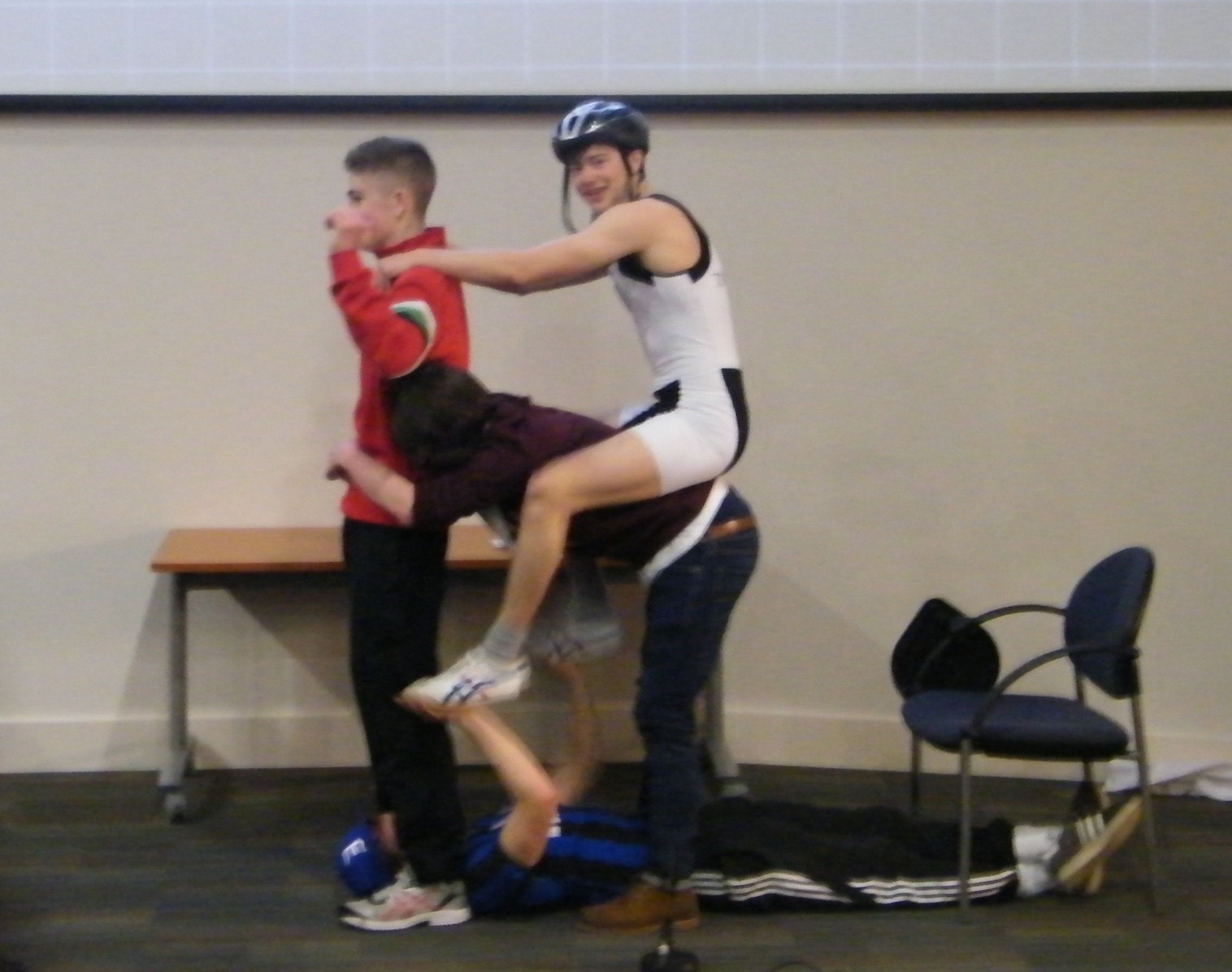 The winning BC Team's Human Bicycle
The SF Chemistry Broad Curriculum Presentation Finals held on Friday, 28th February were a great success. The finals were well attended with 140 pupils and staff from 6 Secondary Schools from the Dublin area.

The judges panel was made up of:

• Michael Seery (RSC and NAIRTL chemistry education winner)
• Joseph Roche (Science Gallery)
• Sinead Duffy (Head of Communications, Bayer UK and Ireland).

Well done to all the finalists and congratulations to the winning SF BC Teams:

Winning Team: "The Chemistry of Performance Enhancers"
Team leader: Holly Davage
Team secretary: Roisin Glancy
Staff mentor: Prof. Isabel Rozas

2nd place: "Organic Electronics"
Team leader: Frank Higgins
Team secretary: Oskar Ronan
Staff mentor: Prof. John Boland

3rd place: "The Chemistry of Commuting"
Team leader: Clare Fitzpatrick
Team secretary: Meaghann Boyd-Fitzpatrick
Staff mentor: Prof. Wolfgang Schmitt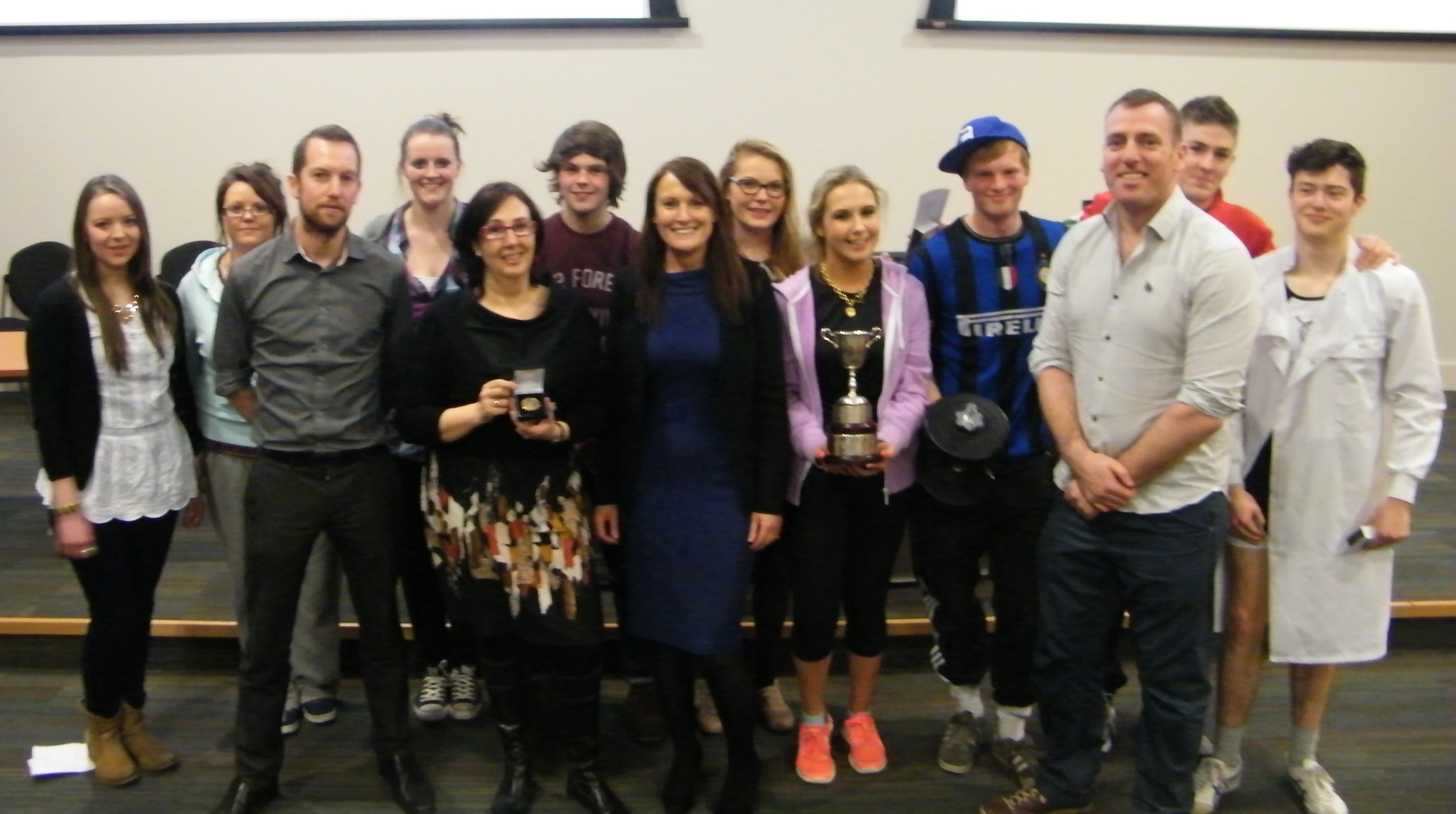 From left to right: The winning Team with Joseph Roche, Isabel Rozas, Sinead Duffy and Michael Seery.
This year's final was sponsored by the RSC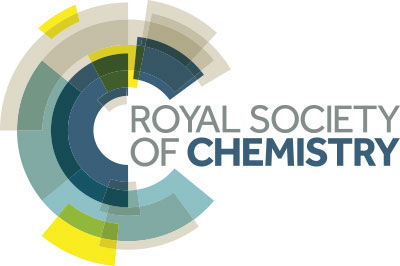 ---
Junior Freshman Physical Chemistry Class
Best Demonstrator Prize Winners
2013/2014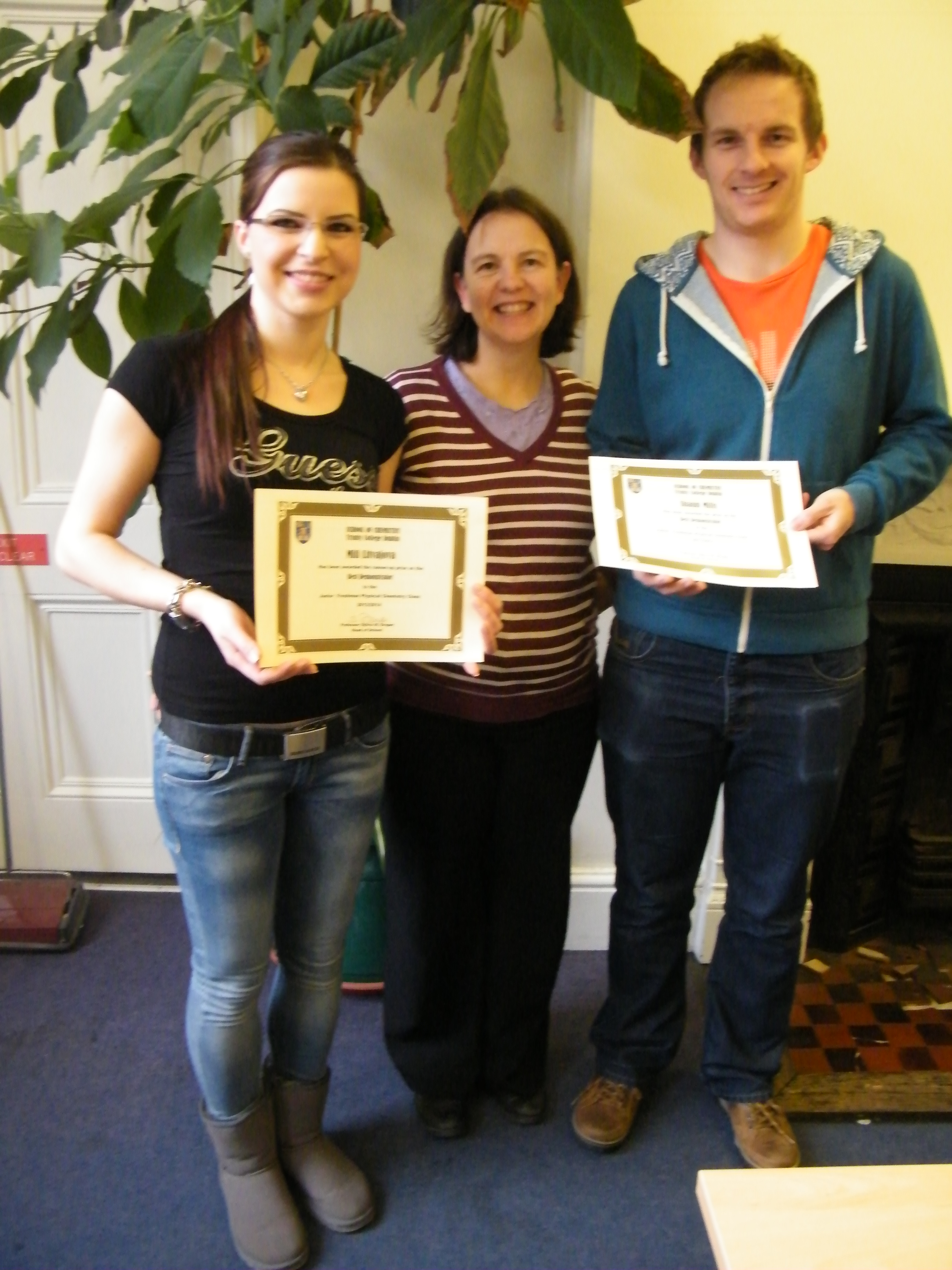 From left to right: Mili Litvajova, Prof. Sylvia Draper (Head, School of Chemistry) and Shaun Mills

Congratulations to Shaun Mills (winner) and Mili Litvajova (runner-up), who were awarded the prize for the Best Demonstrator to the Junior Freshman Physical Chemistry Class for 2013/2014. The award is based on the assessment of the undergraduate students and of the staff members in charge of the classes and recognises the efforts that School of Chemistry postgraduate students go to in delivering high-quality laboratory instruction.
---