Senior Freshman Chemistry Broad Curriculum
2014/15: Senior Freshman Broad Curriculum Coordinators:
Riley Gatensby, Michelle Browne and Robert Conway-Kenny (sfchembc@tcd.ie)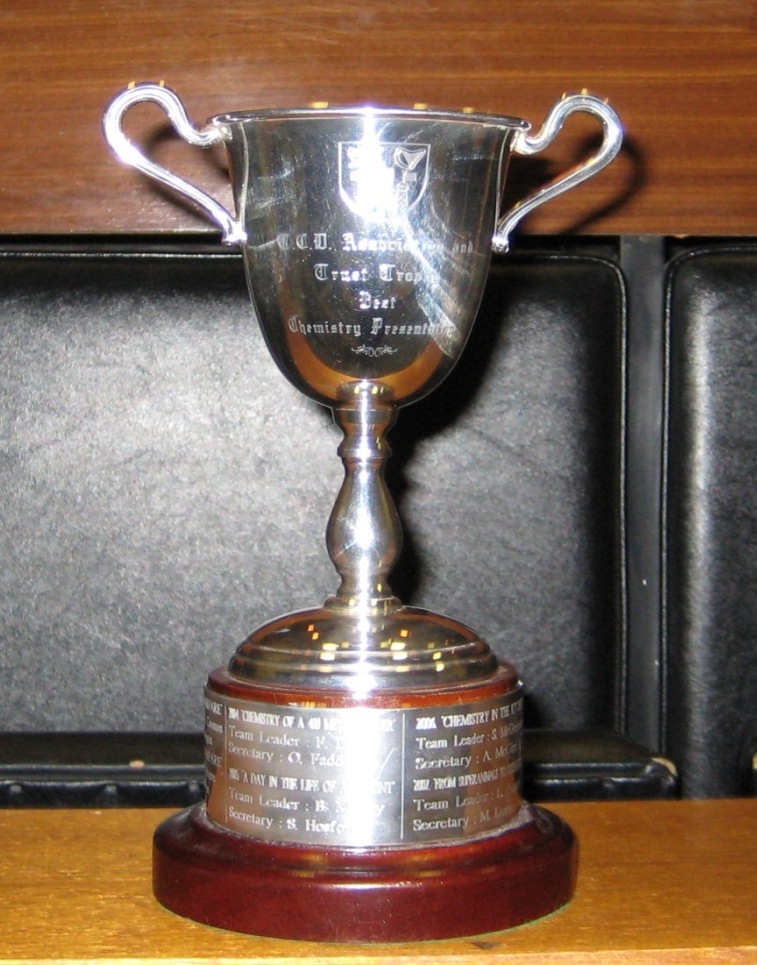 The senior freshman broad curriculum course is held over two semesters relating to the two chemistry modules that are taught during Semester 1 (CH2201) and Semester 2 (CH2202), respectively with second year students split into groups and assigned topics that they have to research in detail. The topics can have a connection with recent news or be thought provoking, with each group mentored by an academic member of staff in the School of Chemistry and all groups receive the support of a team of three postgraduates who coordinate activities and steer the process.
The first semester is designated to writing a group report and individual subtopic reports on the main topic. This allows the students to develop their writing and research skills to a university standard. The second semester is aimed at communicating the research material gathered in semester 1 through a group presentation. Some of the presentations incorporate a demonstration component to further show the practical and creative aspects of chemistry. An internal competition among groups is then held in a heats/finale format and all of the presentations are judged by a panel. The finalists of this first round then move on to present their topics to a large audience mainly consisting of second level students but also fellow university students and a scientific panel which decides on an overall winner. The panel consists of members of staff, industrial representatives and external judges with expertise in communication or science/technology.
The course and the competition aim at promoting the chemical sciences through recognition of their importance in our everyday life. This is not only among university students, but also among younger students in second level whom might be at a critical stage in their academic career, and are receptive to the possibility of considering chemistry and science in general as a potential career choice.
This year's Broad Curriculum Final was held on 28th February, 2014.
This year's final was sponsored by the RSC

Previous Topics include:
Venomous/poisonous/
toxic animals

Smart materials and
metamaterials

The Chemistry of
Transmutation

The Chemistry of
the Rainforest'