We have recently attached (in collaboration with Prof. Y. Gun'ko) organocatalysts to magnetic nanoparticles. The immobilised heterogeneous catalyst is capable of efficiently promoting a range of reactions of high synthetic utility at loadings between 0.2 and 10 mol% and can be isolated from the reaction mixture by exposure to an external magnetic field. Using this recovery methodology the catalyst could be recycled over 30 times across a range of reactions without any discernible loss of activity. A chiral version of this catalyst was also prepared which could promote the kinetic resolution of sec-alcohols with excellent selectivity and catalyst recyclability (32 cycles – no degradation).
---
'The immobilisation of chiral organocatalysts on magnetic nanoparticles: the support particle cannot always be considered inert'
O. Gleeson, G. L. Davies, A. Peschiulli, R. Tekoriute, Y. K. Gun'ko* and S. J. Connon*, Org. Biomol. Chem. 2011, 9, 7929.
7th Most accessed paper in Organic and Biomolecular Chemistry – October 2011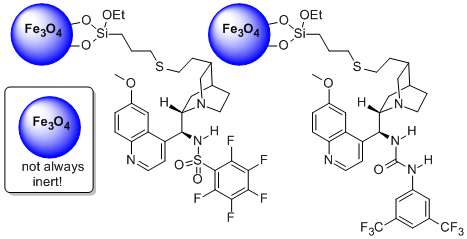 ---
'The first magnetic nanoparticle-supported chiral DMAP analogue: highly enantioselective acylation and excellent recyclability'
O. Gleeson, R. Tekoriute, Y. K. Gun'ko and S. J. Connon*, Chem. Eur. J. 2009, 15, 5669.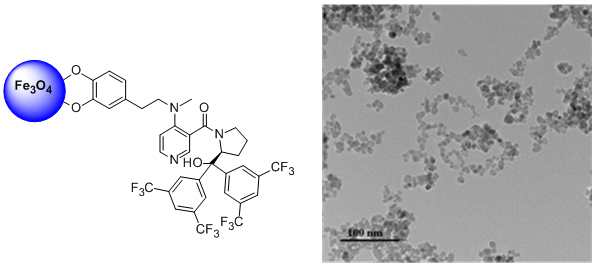 ---
'A magnetic nanoparticle-supported 4-N,N-dialkylaminopyridine catalyst: excellent reactivity combined with facile catalyst recovery and recyclability'
C. O. Dálaigh, S. A. Corr, Y. Gun'ko* and S. J. Connon*, Angew. Chem. Int. Ed. 2007, 46, 4329.